RBC Beats Estimates on Investment Banking, Raises Dividend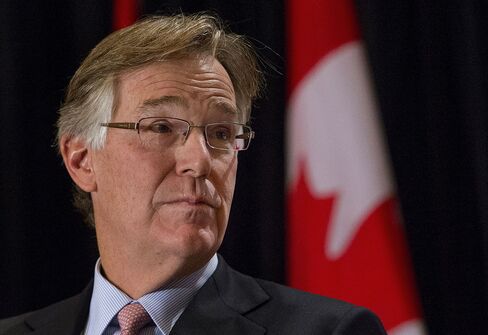 Royal Bank of Canada, the first Canadian lender to report third-quarter results, beat analysts' estimates as investment-banking fees surged in the final quarter under Gordon Nixon's 13-year leadership.
The company raised its dividend by almost 6 percent. Net income for the period ended July 31 climbed 4 percent to a record C$2.38 billion ($2.17 billion), or C$1.59 a share, from C$2.29 billion, or C$1.51, a year earlier, the Toronto-based bank said today in a statement. Adjusted profit, which excludes some items, was C$1.64 a share, beating the C$1.57 average estimate of 12 analysts surveyed by Bloomberg.
RBC, Canada's second-largest lender by assets, was the country's top arranger of stock sales in the quarter, helping push profit to a record at its investment bank. The firm also profited from higher trading revenue and record earnings from wealth management. David McKay, 50, became chief executive officer when Nixon, 57, retired on Aug. 1.
"The big beat came through a notably outsized performance in wholesale," Jason Bilodeau, an analyst at Macquarie Capital Markets in Toronto, said in a note. "This raises the bar further on what is already thought to be a strong quarter for the capital markets business."
The RBC Capital Markets unit had record profit of C$641 million, up 66 percent from a year earlier, on higher trading and fees from arranging stock sales and advising on takeovers. Underwriting and advisory fees rose 81 percent to C$552 million.
Share Gains
The firm helped lead secondary offerings for companies including CI Financial Corp. and Enbridge Inc., Canada's largest oil-pipeline operator. Trading revenue across the bank rose 67 percent to C$863 million from a year earlier.
The lender raised its quarterly dividend four cents to 75 cents a share, its second increase in a year.
RBC's shares have climbed 14 percent this year, matching the advance of the eight-company Standard & Poor's/TSX Commercial Banks Index. By comparison, the KBW index of 24 U.S. lenders has gained 2.8 percent.
Canada's six biggest banks are expected to boost per-share adjusted profit by 9 percent from a year earlier, Robert Sedran, an analyst with CIBC World Markets, said in an Aug. 18 note to investors. Companies will benefit from improvements in capital markets as takeovers and stock sales bolster investment-banking fees, Sedran said, while improving North American equity markets boost assets under management.
Jamaica Sale
Royal Bank's revenue rose 25 percent to C$8.98 billion from C$7.17 billion a year earlier, the bank said. Royal Bank set aside C$283 million for bad loans, up from C$267 million a year earlier.
Profit from personal and commercial banking fell 2.5 percent to C$1.14 billion from a year earlier on costs tied to selling its Jamaican banking operations, the company said. RBC recorded a C$40 million loss in the quarter on the sale, wider than its C$37 million estimate on June 27.
Wealth-management profit rose 22 percent to a record C$285 million, while insurance earnings also hit a record, rising to C$214 million, up 34 percent from the year earlier.
Investor and treasury services, which include RBC's global custodial business, posted profit of C$110 million, compared with C$104 million a year earlier.
Nixon generated more than C$65 billion of net income during his tenure, the most profit among companies in Canada's benchmark Standard & Poor's/TSX Composite Index in that period, according to data compiled by Bloomberg.
Bank of Montreal, Bank of Nova Scotia and National Bank of Canada report results Aug. 26, followed by Canadian Imperial Bank of Commerce and Toronto-Dominion Bank on Aug. 28.
(Royal Bank will hold a conference call to discuss quarterly results at 8 a.m. Toronto time at +1-416-340-2217 or 1-866-696-5910 passcode 5921388# or at www.rbc.com/investorrelations/quarterly-financial-statements.html)