Norway Unveils Steps to Protect Fish Farmers From Russia Ban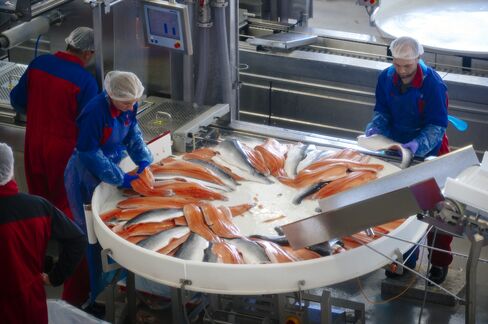 Norway, the biggest salmon producer, will allow fish farmers to hold more stock and delay harvesting to limit the impact of a Russian import ban shutting out close to 10 percent of the Nordic country's salmon output.
The maximum amount of fish allowed in one concession will be raised by 6 percent for salmon through March 31, allowing farmers such as Marine Harvest ASA, the world's biggest, to limit supply, the Trade, Industry and Fisheries Ministry said in a statement late yesterday. A similar measure for trout will permit a 20 percent increase.
"With these measures, we're giving the industry time to find new customers," Fisheries Minister Elisabeth Aspaker said in the statement. Environmental and animal-welfare regulations will remain unchanged, the ministry said.
Russia moved on Aug. 7 to ban imports of food products from Norway and other countries in retaliation for sanctions that have been imposed on the country for its support of separatists in eastern Ukraine. Marine Harvest and other salmon farmers such as Leroey Seafood ASA and Salmar ASA plunged in Oslo trading as the ban impacted supply patterns in the market and prices declined.
Marine Harvest, controlled by billionaire John Fredriksen, rose as much as 2.3 percent to 85.4 kroner, the highest level since Aug. 7., and traded at 83.7 kroner as of 9:41 a.m. in the Norwegian capital. Shares in Cermaq ASA rose 0.9 percent while Salmar gained 0.9 percent.
Salmon Falls
The benchmark salmon price fell almost 9 percent to 32.33 kroner a kilogram (2.2 pounds) last week from a week earlier, the fish-derivatives exchange Fish Pool said Aug. 20.
Finance Minister Siv Jensen said in an interview last week that Norway was studying the impact on its economy of the deteriorating ties to Russia and will step in to support industries that may be affected,
"We are ready to act if necessary," Jensen said.
Russia is the third-biggest importer of Norwegian salmon, contributing more than 9 percent of export revenue in July, or 332 million kroner ($54 million), according to figures published this month by the Norwegian Seafood Council.
The 13-member Oslo Seafood index rose 0.5 percent to 438.04 points, the highest intraday level since Aug. 7. It traded 3.3 percent lower than the close on Aug. 6.
Before it's here, it's on the Bloomberg Terminal.
LEARN MORE