Leucadia's Handler Joins Ex-SAC's Kumin at Folger Hill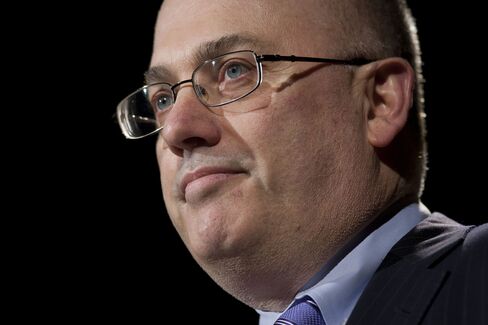 Richard Handler, the chief executive officer of Leucadia National Corp., will join the board of Folger Hill Asset Management LLC as his company commits $400 million to the fund.
Leucadia President Brian Friedman will also join Folger Hill's board, New York-based Leucadia said today in a regulatory filing.
Folger Hill was established Aug. 15 by Leucadia and Solomon Kumin, the former chief operating officer of SAC Capital Advisors LP. The firm, led by Kumin, must raise at least $400 million from other investors as part of its deal with Leucadia, according to today's filing.
Folger Hill is "expected to register as an investment adviser with the SEC and launch a multi-manager investment partnership," Handler's company said in the filing to the U.S. Securities and Exchange Commission. "We also committed to provide Folger Hill with a 3-year, $20 million revolving credit facility to fund its start-up and initial operating expenses."
Mortgages, Beef
Leucadia, which owns businesses including Jefferies Group LLC and a beef processing operation, has used partnerships to expand. The company has a commercial-mortgage joint venture with Warren Buffett's Berkshire Hathaway Inc. Leucadia also has a minority stake in Philip Falcone's publicly traded Harbinger Group Inc.
Leucadia slipped 0.4 percent to $24.96 at 9:54 a.m. in New York. The company has dropped 12 percent this year. Laura Ulbrandt, a spokeswoman for Leucadia, didn't immediately return a call seeking comment.
SAC Capital, Steven A. Cohen's hedge-fund firm, this year converted into a family office, Point72 Asset Management LP, after paying a record $1.8 billion to settle U.S. allegations of insider trading. Eight former SAC money managers and analysts have pleaded guilty or been convicted of using confidential and material information to profit, while two have settled with federal regulators without admitting or denying wrongdoing.
Cohen Alumni
Kumin is among several former SAC executives who have left or plan to leave the firm. Point72 this month said that Tom Conheeney, who served as president, plans to step down from his role. Andrew Schiffrin quit the firm on Jan. 6 as a money manager trading industrial stocks. Other departures include Nick Tiller, an energy money manager, who retired in October to focus on a charity he founded.
Before it's here, it's on the Bloomberg Terminal.
LEARN MORE