Widodo Court Win Ends Indonesia's Most-Divisive Election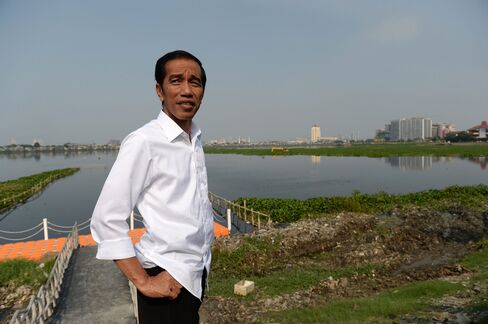 Jakarta Governor Joko Widodo will become Indonesia's next president after a court rejected his challenger's allegations of fraud, ending the most divisive leadership contest since the country's return to democracy.
The constitutional court yesterday upheld Widodo's 8.4-million-vote victory over Suharto-era general Prabowo Subianto in last month's election, finding in a 4,300-page verdict that there was no evidence to support claims of structured, massive and systematic fraud.
"Let's put away differences in political choice during the election to take part in realizing our ideals as a great nation," Widodo, known as Jokowi, said on his Facebook page after the decision. "The unity of the people and helping each other will be the new power to rebuild an Indonesia that is politically sovereign, economically independent and has personality in its culture."
The ruling will allow 53-year-old Jokowi to focus on how to boost an economy that grew in the second quarter at its slowest pace since 2009 when he assumes office in October. Today, he indicated he wants to reduce fuel subsidies. The owner of a furniture business who entered politics for the first time in 2005 also will need to reunite a fractured electorate in the world's third-largest democracy and build on his coalition's minority in parliament.
Fuel Subsidy
One of Jokowi's first challenges will be to assess a 2015 budget from the outgoing government that includes $31 billion of planned spending on energy subsidies, outlays that would limit his ability to fund infrastructure and social programs.
Jokowi's priority during the transition period before he takes power on Oct. 20 is to discuss the budget. If there's limited fiscal space, then a fuel subsidy policy change must be taken, he said in a Metro TV interview.
"It will take courage," Jokowi said. "The fuel subsidy will be diverted to more productive use."
The rupiah rose 0.2 percent in Jakarta today after touching a three-week high, according to prices from local banks, taking gains for the year to 4.3 percent, the most among major Asian currencies tracked by Bloomberg. The Jakarta Composite Index closed 0.1 percent lower, after erasing early gains toward a record high.
Foreign money managers have put $4.9 billion into Indonesian shares since December, on optimism Jokowi will replicate nationally the success he had in Jakarta in cutting red tape and kick-starting infrastructure development.
Infrastructure
Outgoing President Susilo Bambang Yudhoyono will hand over 25 top infrastructure projects to Jokowi, including ports, toll roads and a sea wall to protect the capital, said Dedy Priatna, deputy minister at the national planning ministry.
"Apart from Prabowo, Indonesia accepted the result of the election nearly a month ago," said Paul Rowland, a Jakarta-based political analyst and former country director for advocacy group the National Democratic Institute. "Now, President-elect Joko Widodo has the green light to go ahead with planning the transition, selecting a cabinet and getting down to the business of fixing the economy and implementing an ambitious program that aspires to reform major Indonesian institutions."
Before the court ruling yesterday, almost 30,000 police were deployed across Jakarta, where they fired tear gas and water cannons when Prabowo's supporters threw rocks and tried to break through their barricade of the court house.
'Game Over'
Streets in central Jakarta were calm today. The front page headline of the English-language newspaper Jakarta Post, which declared support for Jokowi before the election, read: "Game over, Prabowo!".
Ensuring a peaceful transfer of power is crucial for Indonesian authorities as they seek to assure investors the nation's closest election since Suharto's fall in 1998 after 31 years in power won't erode economic progress.
Jokowi, buoyed by his everyman image and middle-class background, appealed to voters looking for a more liberal democracy, while Prabowo, 62, with his special-forces experience and ties to Suharto, was the choice of those nostalgic for a leader who projects strength. Prabowo is a former son-in-law of the late Indonesian dictator.
"Prabowo-Hatta are human so they are disappointed, but both of them respect the decision by the Constitutional Court, which is final and binding," Tantowi Yahya, a spokesman for Prabowo and his running mate Hatta Rajasa, said after the verdict yesterday. Prabowo did not make a public appearance.
Credibility Test
There were some election violations in the eastern Papua region, yet these did not affect the vote result, said judge Anwar Usman. There had been pressure on the court to deliver a verdict rooted in the law, since it has previously been tainted by corruption allegations involving lower-level elections cases.
"The constitutional court has passed a test of credibility following doubts that emerged after the former chief justice was sentenced to life in prison for soliciting bribes," Rowland said. "It is a well-reasoned verdict."
Prabowo's coalition will play a balancing role and will partner the government if its programs benefit the people, spokesman Yahya said. Prabowo's coalition remains solid, said Idrus Marham, secretary-general of Golkar, the largest party within Prabowo's grouping.
The court's verdict will strengthen Jokowi's hand, said Marcus Mietzner, associate professor at Canberra's Australian National University. Some of the ex-general's allies are already seeking to switch sides to join the government.
"More parties will approach Jokowi," Mietzner, author of "Money, Power and Ideology: Political Parties in Post-Authoritarian Indonesia," said in Jakarta.