Where to Find Pockets of Opportunity in Stocks
What a difference a year makes.
We refer to the stock market's positive reaction yesterday to the prospect of less Federal Reserve intervention over coming months. This is the exact opposite of what happened last year when the prospect of "taper" was first introduced.
In June of 2013, then-Fed Chairman Ben Bernanke stunned markets when he testified to Congress that "...the committee currently anticipates that it would be appropriate to moderate the pace of purchases later this year." The S&P 500 Index fell 1.4 percent that Wednesday, followed by a decline of 2.5 percent on Thursday.
By comparison, stocks rallied yesterday even as the Federal Open Markets Committee minutes from July indicate that "...it might become appropriate to begin removing monetary policy accommodation sooner than they currently anticipated."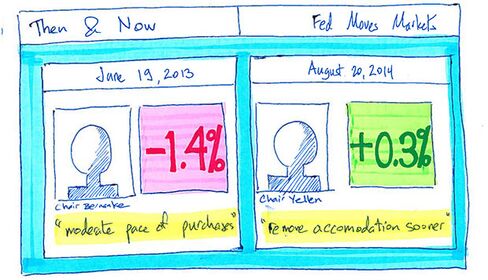 What's changed?
Michael Shaoul, Chief Executive Offer of Marketfield Asset Management LLC, believes stocks reacted differently because the economy is behaving differently. This morning on Surveillance, he noted:
"What I thought was the most interesting thing is that the Main Street contacts the Federal Reserve keeps... which turn up in things like the Beige Book and in anecdotal comments in the minutes... are really signaling significant strengthening in the U.S. economy."
The anecdotal evidence to which Mr. Shaoul refers is also evident in the official economic data tracked by various government agencies.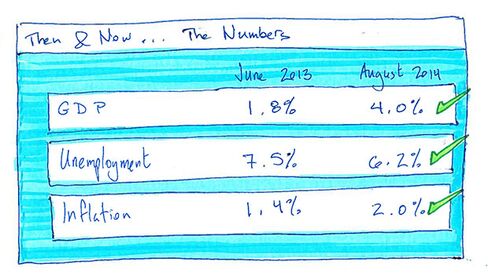 Investors who own stocks continue to profit. Today the S&P 500 Index is trading at a new all-time high, and the NASDAQ Composite Index is posting a 14-year high. Both are up roughly 8 percent for the year. In other words, if you're long, stay long.
If you're looking to add exposure, consider the smaller-capitalized stocks of the Russell 2000 Index (IWM ). In an improving economy, they too should rise. We believe their lagging performance since April represents opportunity.