Rome Airport Says Phantom Luggage Carts Will Reappear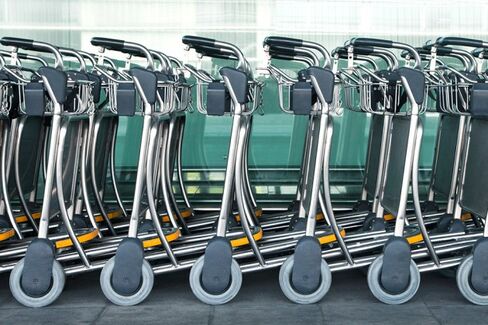 When we reported that luggage carts had disappeared from the baggage claim area of Rome's Fiumicino airport, the episode raised questions about Italy's ability to rise from yet another recession. If visitors to the capital can't even get their bags out of the airport, what chance does the rest of the tourist-dependent economy have?
Now the company that manages the airport says there's hope. "We have already taken steps to augment our supply of carts and believe that the problem will be largely solved beginning next week," Aeroporti di Roma said in a statement in response to the story on Businessweek.com.
The shortages started July 1 when carts were made free of charge, increasing their use. As the carts streamed out of the terminal to waiting taxis and cars, airport staff didn't bring them back into the terminal fast enough, leaving empty racks and immobile travelers. Making carts free also has "given rise to some misuse that has caused the availability problems," the company said. Additionally, the number of travelers passing through the airport increased during August.
While the situation generated consumer complaints, the company said the carts weren't always missing. "The temporary shortage and lack of luggage carts at the Fiumicino airport was actually only true at particular times of day over a very brief period," it said.
Ironically, Aeroporti di Roma made the carts free to remedy earlier gripes from passengers who often didn't have the €2 exact change previously required to get a set of wheels. "This situation was thus a (temporary and unforeseen) result of ADR's desire and efforts to improve services for its passengers," it said.
The coming days should show whether the Rome airport operator makes good on its promised remedies. The bigger question will be whether the rest of Italy is up to the challenge of fulfilling its potential.
Before it's here, it's on the Bloomberg Terminal.
LEARN MORE