Pistol-Packing Bankers Chase Profits in India
Rural kiosks sign up 100 million people for financial services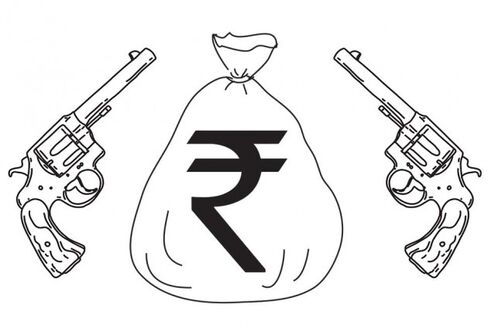 Zeyaul Haque, who runs a market stall in rural India, likes the respect he earns as the village banker. He has 10,000 customers who previously didn't have access to savings accounts or cash withdrawals. There's one drawback: the fear of being robbed.
"I bought a pistol," says Haque, 31, who took over the business in April after his brother was shot to death and robbed of 500,000 rupees ($8,200) by a customer and motorcycle-riding accomplices who'd staked out his daily route to the nearest State Bank of India branch. "This is a dangerous business."
Almost 200,000 traders, shopkeepers, and small-business owners across India are serving as so-called banking correspondents, working for India's biggest banks to sign up customers. The project is an effort by the Reserve Bank of India to reach the estimated 65 percent of India's adults who, according to the World Bank, don't have a bank account. That's about 530 million people, more than the total combined population of the U.S. and Brazil or the entire European Union.
The program began in 2006 and has expanded in the past three years. More than 100 million Indians have opened bank accounts since 2011, according to RBI. Banks that previously shied away from opening rural branches are outsourcing to contractors who manage the thousands of correspondents.
Top-performing village bankers can earn as much as 20,000 rupees a month; less active ones can earn about 900 rupees. Individual correspondents split the fees from the kiosks—they get 70 percent and the contractors get 30 percent.
Using slow and spotty Internet connections, often via USB dongles, correspondents log on to banks' Web-based platforms to manage accounts and travel to branches to deposit and pick up cash.
"We still have a lot more ground to cover to make banking accessible to everyone in this vast country," says Arundhati Bhattacharya, chairman of SBI, the country's largest bank. Extending financial services to those outside of India's cities who don't have accounts could generate $21 billion in bank revenue by next year, more than a fifth of total revenue, a McKinsey report concluded. The government could save $22.4 billion annually by paying subsidies for expenses such as education and health care directly into accounts, McKinsey says, reducing corruption and inefficiencies in the banking system.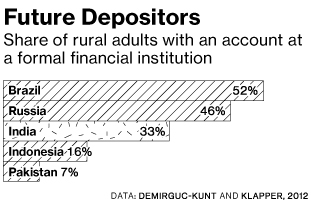 So far the minibank business hasn't generated much profit for financial institutions because of high costs, says Rajiv Anand, group executive for retail operations at Mumbai-based Axis Bank. Many of the accounts lie empty, since, according to RBI, there are no required minimum balances, yet banks must continue servicing them because of the central bank's rules. "These people are really coming into the banking system from having no bank account at all," Anand says.
Akthara Khathion, a farmer's wife, hikes two and a half miles every week to visit a kiosk near the rice and jute fields of Assam. "I've been setting aside some money in this account and have saved up 30,000 rupees," says Khathion. "It has helped me save for my family's future, and whenever I get some extra cash, I deposit it right away."
Others often use their accounts to receive money transfers from family out of state. Many tend to withdraw all their cash as soon as a transfer is complete.
"Making sure we have enough money to give to customers every day is the biggest problem," says kiosk operator Mohibur Rahman, who varies his routes or asks family members to help carry money for fear of robbers. To securely identify his 6,000 customers, he relies on a fingerprint scanner, but it sometimes doesn't capture the prints of many farmers who work with their hands.
At least 14 kiosk operators have been attacked in eastern Bihar state, near Nepal, in the past two years. Using guns and grenades, attackers stole at least 3.2 million rupees, according to reports from contractors.
Underwriters in India only insure cash if it's carried in a vehicle with at least two guards, and most kiosk operators travel by motorcycle, says Akhilesh Akhil, president of Sanjivani Vikas, a contractor that manages 750 outlets in Bihar for SBI and Punjab National Bank.
In April, RBI said banks are responsible for insuring cash handled at kiosks. The institutions haven't implemented the rules, says Ajeet Kumar Singh, president of the Society for Advancement of Village Economy, which runs 1,300 kiosks for SBI. "These attacks have become quite frequent in the past two years," Singh says. "We live in constant fear."
Before it's here, it's on the Bloomberg Terminal.
LEARN MORE