Erdogan Taps Foreign Policy Guru as Successor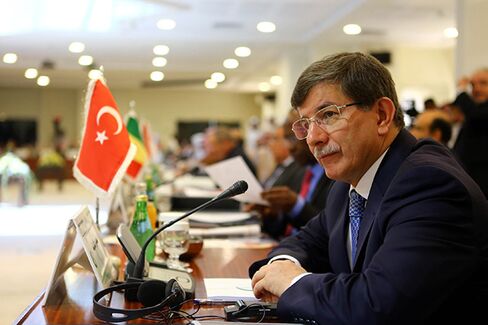 Turkish President-elect Recep Tayyip Erdogan named Ahmet Davutoglu as his successor to be prime minister, charging his foreign-policy chief with taking the battle to their domestic foes.
Erdogan, 60, named Davutoglu, 55, to be party leader and premier, a week before Erdogan relinquishes his prime-ministry seat after 11 years to take office as the nation's first popularly elected president. Erdogan says he'll continue to run Turkey together with the new prime minister, transforming the historically ceremonial presidential post into a more powerful executive office.
Under Davutoglu's five-year tenure heading the foreign ministry, Turkey's relations with partners from Iraq and Syria to Israel, Egypt, the European Union and U.S. became strained, turned hostile or snapped. The new premier is best known for his "zero problems with neighbors" policy, which envisioned Turkey steering regional developments "rather than merely watching them unfold," according to the Foreign Ministry's website.
"The so-called Arab Spring has changed the context: Turkey has not been able anymore to influence events, but at the contrary has been crushed by them," Stefano Torelli, a research fellow at the Institute for International Political Studies in Milan, said by e-mail today. "Turkey has withdrawn from regional policy and has focused on its internal problems, giving up its ambition to serve as a model for other Arab and Islamic countries and becoming a more and more authoritarian country."
Party Unity
In introducing Davutoglu in Ankara yesterday, Erdogan stated the objectives of his successor's tenure. Davutoglu will be expected to further a peace process with Kurdish citizens, maintain party unity and continue the fight against members of an Islamic sect that Erdogan says has established a "parallel state" in the bureaucracy and is trying to overthrow him.
"Davutoglu has the will and determination to fight against this parallel state," Erdogan said during the televised announcement. Davutoglu will also be tasked with building the party's vision of a "New Turkey" and working on a new constitution for the nation, he said.
Davutoglu stands for approval as chairman of the Islamic-rooted Ak Party at an extraordinary convention on Aug. 27. He's the party's sole nominee.
"Whoever attempts to stop this sacred walk, they should know that Ak Party cadres will continue to stand against them like a historic rock," Davutoglu said in prepared remarks from the podium yesterday. "Those who want to plant seeds of division won't succeed."
World Leader
Signs that Davutoglu was being groomed for the premiership gained prominence in the run-up to municipal elections in March. When Erdogan lost his voice on the campaign trail, the normally soft-spoken Davutoglu appeared in his place at a rally in his hometown of Konya, firing up crowds in a speech painting Turkey as an Islamic power and Erdogan as a world leader beset by plots to undermine him.
"You be witness here in Konya," Davutoglu said at the rally on March 24. "Let the Islamic world of 1.5 billion be witness, let the entire world be witness, that no conspiracy can set this movement back."
German, Arabic
Before being appointed as foreign minister in 2009, Davutoglu served as Erdogan's foreign-policy adviser for six years. He received a PhD in political science and international relations from Istanbul's Bosphorus University, where the curriculum is taught in English. In the early 1990s, he lectured at the International Islamic University of Malaysia. He also speaks German and Arabic, according to his official biography on the Foreign Ministry website.
Davutoglu will have to manage forces in the Ak Party jostling to fill the void left by Erdogan, who's required by Turkish law to cut ties with political parties. Outgoing President Abdullah Gul has said he'll return to the party he co-founded with Erdogan, even as Erdogan engineered a timetable that eliminated Gul from any immediate leadership position. At a farewell reception on Aug. 19, Gul took credit for bringing Davutoglu into politics.
Erdogan will remain the "natural leader" of the party, Deputy Prime Minister Emrullah Isler said in an interview with AHaber television on Aug. 11.
Win Elections
"We are not looking for a leader. We are looking for a prime minister to rule the government, work in harmony with the president and control the party," Isler said. "We are looking for a prime minister who could win elections" in 2015, he said.
Ak Party needs to win a two-thirds majority in the 550-member parliament next year to directly change the constitution and introduce a presidential system, or at least 330 seats to hold a referendum on a new charter.
Bulent Aras, who worked as foreign policy adviser to Davutoglu until September 2013, said Erdogan and Davutoglu have worked well together and will continue to do so.
"The idea of introducing a presidential system requires a wider coalition and agreement in Turkish politics," Aras said in an Aug. 18 e-mail from the Woodrow Wilson International Center for Scholars in Washington. On foreign policy, Erdogan has "supported and appropriated" Davutoglu's vision, which includes expanding Turkey's influence to Africa, Asia and Latin America, Aras said.
Western Allies
Turkish foreign policy has increasingly dismayed Western allies. A member of NATO, it signed energy agreements with Iran and a missile deal with China, shelved its military alliance with Israel over the Jewish state's policies towards the Palestinians and developed close ties with the Islamist militant group Hamas as well as Umar al-Beshir, the Sudanese leader charged with war crimes in Darfur by the International Criminal Court. Turkey's membership talks with the European Union, meanwhile, have come to a standstill.
"Though highly respected by foreign diplomats for his energy and intellect, Davutoglu's policy of 'zero problems with neighbors' was naive and failed spectacularly amidst the Arab Awakening," Anthony Skinner, head of analysis at Maplecroft, a U.K.-based global risk forecasting company, said in an e-mail on Aug. 19.
Turkey's once-close military alliance with Israel broke over what Erdogan said was Israel's disproportionate use of force in the Gaza Strip, as well as the killing of nine Turkish citizens aboard a flotilla attempting to break Israel's sea blockade of the Palestinian territory in 2010. Erdogan has said that Israel's actions are worse than those of Adolf Hitler, sparking condemnation from the U.S. State Department.
Backing Rebels
Turkey also backed rebels in their quest to topple Syrian President Bashar al-Assad, and sided against the military leadership in Egypt that replaced Mohammed Mursi after overthrowing him last year. Ties with former Iraqi Prime Minister Nouri al-Maliki's government were strained by Turkey's sheltering of Iraq's fugitive Vice President Tariq al-Hashimi in 2012, then by its pursuit of oil deals with the autonomous region of Kurdistan, which Baghdad says are illegal.
"The idea that Turkey's been isolated in the Middle East is not true, but if this is a criticism then it has to be said: 'This is a precious loneliness,'" Erdogan's adviser Ibrahim Kalin wrote on Twitter in August of last year.
Davutoglu may be able to undo some of the damage of the past several years, Ziya Onis, a professor of international relations at Koc University in Istanbul, said by e-mail on Aug. 18. "We are currently in a more pragmatic phase, an era of reset for Turkish foreign policy based on the understanding that the overly ambitious foreign policy has backfired," he said.
Corruption Probe
Davutoglu's domestic priorities will include going after followers of U.S.-based Islamic preacher Fethullah Gulen, whom Erdogan blames for probes into corruption and for eavesdropping secret government meetings. The electronic taps include a conversation leaked in March in which Davutoglu and top military and intelligence chiefs purportedly discussed bombing their own military positions in Syria to justify an invasion.
Authorities responded by imposing press bans and blocking YouTube and Twitter in March. Davutoglu said on March 28 that the leak was an "attack on Turkey's borders."
Militants from the Islamic State, an offshoot of al-Qaeda that's been fighting Assad, today control swathes of Syria and Iraq, and Turkey is struggling to cope with a mass influx of more than 1 million refugees. On June 11, the militants seized Turkey's consulate in Mosul, taking 49 people hostage. Davutoglu had tweeted the previous day that "all precautionary measures" were in place.
Slowing Economy
Davutoglu's premiership will see him shift focus to domestic enemies, according to Maplecroft's Skinner. Thousands of police officers and judiciary members were purged following corruption investigations into the government that were made public in December. Erdogan says they're coordinated by Gulen from Pennsylvania.
Though Turkey under Erdogan grew by about 5 percent a year, annual growth through 2015 will probably average 2.7 percent, according to estimates from the IMF, while inflation has hovered above 9 percent for the past four months. It was unclear whether the economy chiefs, Deputy Prime Minister Ali Babacan and Finance Minister Mehmet Simsek, would have seats in the new cabinet.
"One of the biggest threats to the Turkish economy derives from the potential replacement of prudent cabinet members and advisers in favor of yes men," Skinner said. "This increases the scope for mistakes at a time when economic growth is not as robust as in the past and inflation is up."