Who, Besides Carl Icahn, Really Shops at Dollar Stores?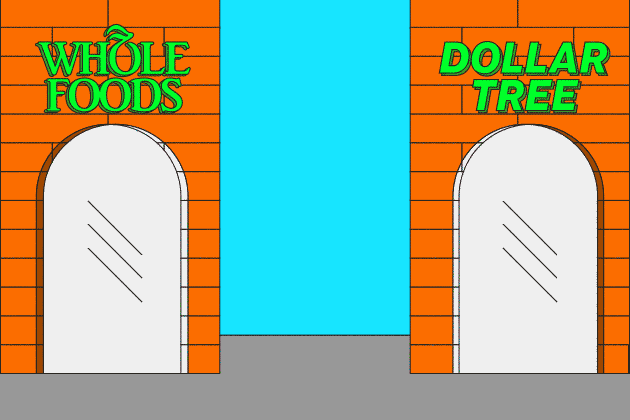 Activist investor Carl Icahn, who seems to be on a perpetual shopping spree for underperforming companies ripe for restructuring, picked up a few things at Family Dollar Stores this summer. By accumulating a 9.4 percent stake in the retailer in June while pressing it to seek a buyer, Icahn set in motion a bidding war for Family Dollar between fellow discounters Dollar General and Dollar Tree.
Dollar Tree was the original suitor—then Dollar General came in with a higher offer. The latest twist came on Thursday, when Family Dollar rejected Dollar General's bid, sticking with Dollar Tree's lower offer.
Although all the players in the increasingly acrimonious drama trumpet the "Dollar" moniker, they're not the same—nor are their customers. Dollar Tree is the only store of the group that actually holds true to its name: Everything it sells goes for no more than a buck. Dollar General and Family Dollar have a much wider range of products and prices, competing directly with each other—and with Wal-Mart Stores.
Just how those business models have attracted surprisingly different customer bases becomes clear in data compiled by Cardlytics, an Atlanta-based marketing company that uses purchase data culled from credit card transactions to deliver relevant ads to consumers. Cardlytics data can also track where a customer shops—say, at Family Dollar—to identify other likely stores where she shops or avoids.
Dollar Tree has said that acquiring Family Dollar would bring it expansion opportunities by giving it access to a different customer base. That's because, despite only selling $1 items, Dollar Tree attracts consumers who have higher incomes than its two "Dollar" rivals. The differences are evident in the Cardlytics data, which show how Dollar Tree customers are much more likely (compared with Family Dollar or Dollar General customers) to shop at higher-end grocery stores such as Trader Joe's and Whole Foods Market.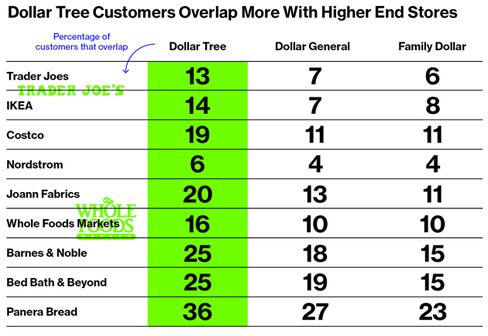 Likewise, Dollar Tree customers are much less likely to eat fast food, visiting places like Pizza Hut and Waffle House much less frequently. But notice how customers of Dollar General and Family Dollar, which both attract members of lower-income households, have shopping habits that are more similar.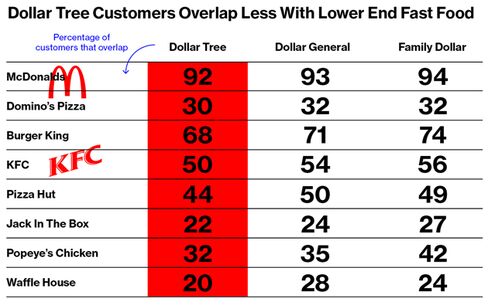 No matter what the general public may think, many of Dollar Tree's higher-income customers are coming into the store only to pick up basic goods—e.g., stickers or confetti-styled party cups—because they are nonessentials for which many shoppers don't want to pay more than a buck.
As for Family Dollar and Dollar General, despite selling higher-priced items they both actually attract lower-end customers. So Dollar General's pursuit of Family Dollar is basically an attempt to double-down in the sub-Walmart discount segment by gobbling up a direct competitor. The data from Cardlytics show clearly that Family Dollar customers have only a 49 percent overlap with Dollar General. (Because these two are direct competitors with similar positioning and product assortments, there's less reason for consumers to shop at both.) That overlap is lower than the 61 percent overlap between Family Dollar and Dollar Tree, which currently offer different product mixes.
Before it's here, it's on the Bloomberg Terminal.
LEARN MORE