Steady U.S. Inflation Sets Up Stocks for Gains: Chart of the Day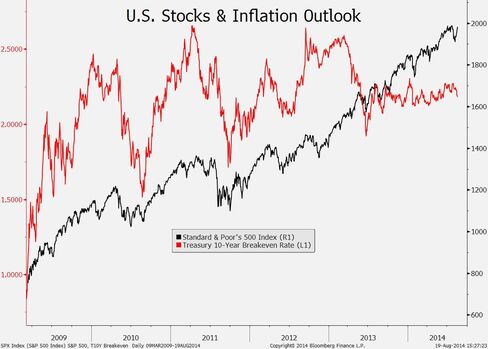 The Federal Reserve's success in stabilizing the inflation outlook has set up U.S. stocks to extend their five-year bull market, according to Barry B. Bannister, an equity strategist at Stifel Financial Inc.
The CHART OF THE DAY shows the relationship between the Standard & Poor's 500 Index and the inflation rate signaled by 10-year Treasury notes since share prices began rising in March
2009. The latter gauge, known as a break-even rate, is compiled by Bloomberg by subtracting yields on inflation-indexed notes from those on fixed-rate debt.
Break-even rates on 10-year securities have been between
2.12 percent and 2.30 percent this year. The range of 18 basis points, or 0.18 percentage point, narrowed from 67 basis points for all of 2013.
Investors have come to accept sustained inflation and low real yields, adjusted for price increases, after "episodes of deflation fear" that interrupted the bull market in 2009-2012, Bannister wrote. Yesterday's 10-year yield of 2.40 percent was only 22 basis points more than the break-even rate.
"Goldilocks' battle against deflation is carrying stocks higher," the Baltimore-based strategist wrote. He increased his year-end estimate for the S&P 500 to 2,300, the highest among 20 strategists in a Bloomberg survey, from 1,850. His earlier call matched the lowest prediction.
The reversal reflects not only the Fed's efforts on inflation by also potential buying by overseas investors and other "bullish stragglers," Bannister wrote. Any influx into stocks may lead to greater volatility, the report said.
Before it's here, it's on the Bloomberg Terminal.
LEARN MORE