Sprouts Outpaces Whole Foods With Cheaper Organic Fare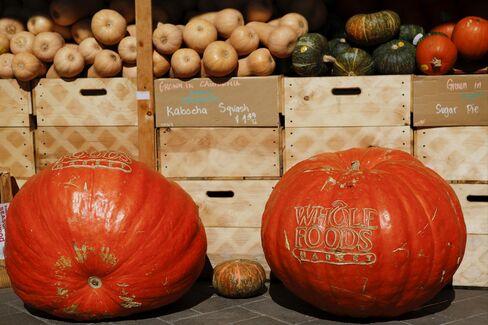 Lisa Xie is just the kind of shopper Whole Foods Market Inc. craves.
The 44-year-old stay-at-home mom, who typically shops at Aldi and Price Chopper, has never seriously considered shopping at Whole Foods because of its "Whole Paycheck" reputation. Instead, she has discovered somewhere she can buy organic or natural food without breaking her budget: Sprouts Farmers Market.
"Price is the first priority, and then quality," Xie said at the Sprouts in Overland Park, Kansas, where she now shops about once a week. "I like the vegetables here. It tastes good, and the price is not very high."
That pairing of appealing produce and bargain prices is making Sprouts Farmers Market Inc. the strongest challenger to Whole Foods, the country's biggest organic grocer. Whether Sprouts, which went public last year, can unseat its larger rival and manage increased competition from Wal-Mart Stores Inc. and Kroger Co. remains to be seen. Yet Sprouts' practice of heavily discounting its fruits and vegetables is winning shoppers and forcing Whole Foods to cut prices as well.
"Getting great, fresh products at good prices is about as on trend as you can be," said Scott Mushkin, an analyst at Wolfe Research in New York. "The desire to eat fresh and healthy foods transcends income now."
Americans have for decades been turning toward organic and local produce as they become increasingly concerned about their health and the environment. Whole Foods has been the most successful grocer to latch onto the trend, going from one store in 1980 to about 390 locations and a projected $14.2 billion in revenue this fiscal year.
Organic Sales
Organic food sales jumped 12 percent to $29.5 billion last year, the biggest annual gain since 2008, while total food sales rose 2.9 percent, according to the Nutrition Business Journal.
About three-quarters of conventional grocers now carry organic goods, according to the USDA. Wal-Mart in April started selling Wild Oats brand organic spices, chicken broth and applesauce, while Kroger sells organic and natural products under its Simple Truth private label.
The new competition has taken a toll on Whole Foods, which has cut sales forecasts three times this year, sending its shares down 34 percent, while Sprouts has slid 23 percent this year. Austin, Texas-based Whole Foods has responded by lowering prices, especially on fruits and vegetables.
Whole Foods is "like the Saks of food, and that poses some problems for them," Mushkin said.
Industry Practice
That perception has provided an opening for Sprouts. The retailer has turned conventional industry practice on its head and makes most of its profit from packaged goods, such as cereals, sauces and vitamins, while accepting narrower margins on produce.
Each week, Sprouts employees in 20 different markets check the produce of about 35 competitors, then lower or raise prices based on the findings.
Typically, about one-third of all items sold at Sprouts are discounted through weekly circular ads, monthly specials and other promotions. On Wednesdays, back-to-back weeks' circulars overlap, letting customers use sale prices from both. A Bloomberg Intelligence study in May found that goods at Sprouts, on average, are about 13 percent less expensive than at Whole Foods.
"Our goal is to make healthy eating affordable for the everyday consumer," Sprouts Chief Executive Officer Doug Sanders said in an interview.
Comparable Experience
Sprouts also has been able to maintain a experience comparable to Whole Foods. Outside its store in Overland Park, which opened in January, customers browse piles of fresh watermelons and potted herbs. Inside, barrels of bulk nuts, dried fruits, granolas, grains and flours pack the middle of the store.
The decor evokes a Disney interpretation of a country market, with drawings of veggies and barns on the wall and faux hardwood accents. At about 27,500 square feet (2,600 square meters), Sprouts stores are less than half the size of an average Kroger store and about three-quarters of a Whole Foods.
Whole Foods leadership was unavailable to comment on the threat posed by Sprouts, said Kate Lowery, a spokeswoman.
As Sprouts expands, it also will face more competition from niche organic stores, as well as big, well-run grocery chains like Kroger and H-E-B that sell more goods, Mushkin said.
"Grocery stores like a Kroger -- they can do a lot of what Sprouts does, and they can do one other thing that Sprouts can't do, which is become a one-stop shop," he said.
Larger Competitors
The larger competitors can undercut Sprouts, pressuring it to respond with lower prices and hurting its margins, Mushkin said. Sprouts also is at risk of expanding too quickly and cannibalizing its own sales or opening less-productive stores, he said.
The first Sprouts was opened in Chandler, Arizona, in 2002 by Stan Boney along with one of his sons and some family friends. Apollo Global Management LLC purchased Sprouts in 2011 and combined it with Henry's Marketplace, another grocery chain that Boney had started in the 1960s and sold to Wild Oats.
Last year, Apollo took Sprouts public, raising $383 million in a U.S. initial public offering. Today, Sprouts shares trade at about 48 times earnings, almost twice as much as Whole Foods.
Growth Strategy
To keep its growth going, Sprouts has been expanding out of its stronghold in the U.S. Southwest and expects by the end of the year to have 190 stores, about half as many as Whole Foods. Its near-term targets are the Atlanta area and states where it already operates, including Texas, Oklahoma, and Kansas. In the next decade, it has a goal of opening 1,200 or more locations.
Sprouts also is stocking more locally produced items, adding olive and sushi bars as well as trying to get its customers to spend more. Shoppers spend an average of $28 per trip to Sprouts, versus about $31 at all supermarkets, according to the Food Marketing Institute.
While it's not easy to get people to put more items in their shopping baskets, Sprouts has plenty of room to expand, said Steve West, an analyst at ITG Investment Research in St. Louis.
"They're in the early, early stages of their growth," West said. "Much like Whole Foods was 20 years ago."