Silva Economy Adviser Warns Against Intervening in the Real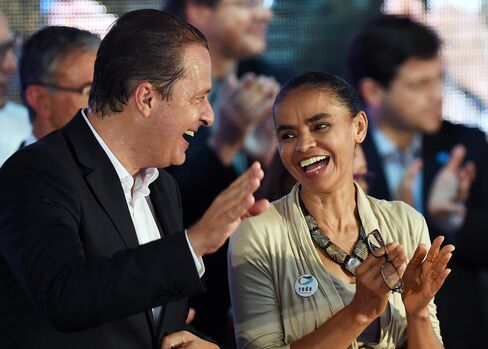 Policies designed to control domestic prices with a stronger currency put Brazil's economy at risk, Eduardo Giannetti, who is economic adviser to potential presidential candidate Marina Silva, said.
"The currency intervention in Dilma's government was to contain domestic prices," he said yesterday at an event in Sao Paulo about the administration of Dilma Rousseff, adding that he was speaking on his own behalf and not as Silva's adviser. "That is an action that generates distortions and is a worrying framework for the country."
Silva, 56, became the wild card in Brazilian politics after her running mate, presidential candidate Eduardo Campos, died in a plane crash last week. She replaced Senator Aecio Neves as second in polling for the Oct. 5 vote and is statistically tied with Rousseff in a possible runoff, according to public opinion research company Datafolha.
The economy has become a central theme in the election as analysts surveyed by Bloomberg estimate gross domestic product contracted during the second quarter as the inflation rate ended the period above the upper limit of the target range.
A trained economist, Rousseff said in an interview on nightly news Aug. 18 that Brazil is overcoming the impact of the global crisis and that the economy will improve in the second half of the year. Unemployment is near record lows and wages are increasing, she said, adding that her administration has cut some taxes to lower the cost of living.
Exceeding Target
Inflation quickened to 6.52 percent in June, exceeding the official target range of 2.5 percent to 6.5 percent for the first time this year before easing to 6.5 percent last month. GDP probably fell 0.2 percent in the second quarter after slowing in the first three months of 2014, according to the median estimate of analysts surveyed by Bloomberg.
Policy makers have struggled this year to slow inflation by raising the benchmark interest rate and keeping a lid on some energy prices. Giannetti said measures to control prices are "extremely harmful" in the short term.
The central bank is intervening in the currency market through daily swap auctions that have helped the real appreciate. The currency fell 0.4 percent to 2.2552 per dollar at 11:09 a.m. local time today, reducing its advance this year to 4.7 percent, which is still more than any other emerging-market currency tracked by Bloomberg. A stronger real reduces the price of some imports while making exports more expensive in dollar terms.
"A victory by the opposition would allow the economy to function with less clumsy intervention," Giannetti said yesterday. "Brazil would go through a couple of quarters of adjustment but would have growth by the end of 2015."
Campos's party, the Brazilian Socialist Party, or PSB, today will appoint Silva as its presidential candidate while naming Congressman Beto Albuquerque as her running mate, according to a statement e-mailed by acting PSB President Roberto Amaral.
Before it's here, it's on the Bloomberg Terminal.
LEARN MORE