McDonnell Denies Special Aid to Company for CEO's Gifts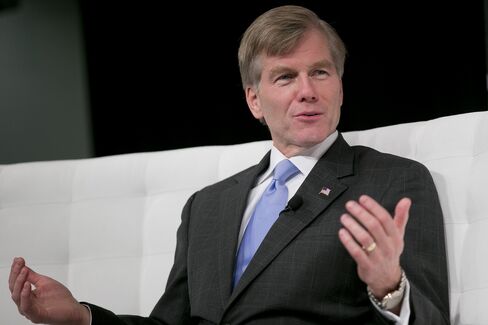 Former Virginia Governor Robert McDonnell told jurors he didn't provide special treatment to a company whose chief executive officer gave him and his wife more than $150,000 in gifts and loans.
"Prosecutors say that what you did for Star Scientific was different and unique," Henry Asbill, one of McDonnell's attorneys, asked him in federal court in Richmond, Virginia. "What do you say to that?"
"My administration did very little other than provide them routine access to government," said McDonnell, a Republican.
McDonnell, 60, is the first governor in the state's 226-year history to be tried for public corruption.
He and his wife, Maureen, are accused of using the governor's office to help Star Scientific Co. CEO Jonnie Williams promote his tobacco-based dietary supplement, Anatabloc, in exchange for vacations, air travel, a shopping spree, loans and other benefits.
The former governor's lawyers have tried to show that Maureen McDonnell acted largely on her own to assist Williams. Much of the trial so far has focused on her relationship with Williams, described by her lawyers as a "crush," and her erratic behavior as first lady, which included screaming at executive mansion staff.
Marriage 'Strain'
Robert McDonnell told jurors yesterday that running for statewide office "certainly puts a strain on the marriage." Maureen, he said, was apprehensive about him being governor.
In contrast, McDonnell described his delight on the day after winning the governor's race in November 2009 when he answered his phone and heard someone say "Can you hold for the president of the United States?"
A congratulatory call from President Barack Obama was "so nice, not formal," McDonnell said. "It was: 'Bob, this is Barack.'"
McDonnell began his testimony by describing his upbringing in suburban Washington and his devotion to public service, first as an Army officer and then as a Virginia state legislator, attorney general and governor.
Asbill, his attorney, led him through a discussion of Virginia political ethics laws, which are lax compared to those in many states.
'My Motto'
Asked if he believed that campaign donors or gift-givers got something from him, McDonnell said, "My motto is that if you can't take somebody's money and vote against them the next day, then you shouldn't be in the business."
McDonnell described various ethics restrictions, including on gifts. His defense rests in part on his contention that while he accepted gifts from Williams, he disclosed them as required.
"There's no limit on gifts, but you have to report them," he said. "Or on loans or stocks."
While McDonnell insisted he did nothing out of the ordinary for Williams, he said if Anatabloc could "create health efficacy" and could help the downtrodden Virginia tobacco region, it would be a good thing.
McDonnell is expected to continue his testimony today.
Earlier yesterday, an accountant called by the defense testified that the McDonnells' finances were sound, a finding intended to cast doubt on a prosecution contention that a troubled real estate investment led the couple to accept loans from Williams.
Another accountant, who prepared the McDonnells' taxes, testified that the governor maintained a record of $70,000 in loans from Williams and didn't attempt to hide them.
Among the charges the McDonnells face is making a false statement in connection with their failure to disclose loans from Williams on an application for a real estate loan.
The case is U.S. v. McDonnell, 14-cr-00012, U.S. District Court, Eastern District of Virginia (Richmond).