Manziel Passed Over for Browns' Starting Quarterback Job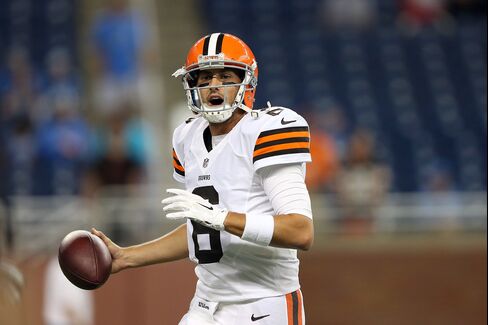 Johnny Manziel will start his rookie National Football League season on the sideline after Brian Hoyer was selected as the Cleveland Browns' starting quarterback, ending one of the NFL's most closely watched preseason position battles.
Hoyer, 28, had a 3-0 record as the Browns' starter last year before tearing a ligament in his right knee and undergoing season-ending surgery. He had been the team's third-string quarterback at the start of the 2013 season.
"He was the clear leader from the beginning," Browns coach Mike Pettine said of Hoyer in a news release. "We've maintained all along that if it was close, I would prefer to go with the more experienced player."
The Browns open the regular season Sept. 7 on the road against the Pittsburgh Steelers and then face the New Orleans Saints and Baltimore Ravens the following two weeks. The Steelers have a 17-2 record against rookie quarterbacks under defensive coordinator Dick LeBeau since 2004.
"I know you don't go from playing two years in college and two preseason games to saying you should come out and play against the Pittsburgh Steelers and their defense," Manziel said at a news conference after yesterday's practice. "I need to earn a place in this offense. Nothing should be given to me and I completely understand that."
Manziel, 21, was the 22nd overall pick in this year's draft after two seasons at Texas A&M University, where he won the Heisman Trophy as college football's best player as a freshman. Hoyer was an undrafted free agent from Michigan State who was signed by the New England Patriots in 2009. He has played in 18 NFL games with the Patriots, Arizona Cardinals and Browns, starting four.
Playing Time
Former NFL Most Valuable Player Rich Gannon, now an analyst for CBS Sports, said he expects Manziel to see significant playing time as a rookie, yet understands the Browns' decision to start the more experienced quarterback.
"You look at the first couple weeks of the season for those guys and you can understand why ideally they want to start Hoyer," Gannon said in an interview. "You don't want to start the kid in Week 1 against Pittsburgh and have it go south for him. I think he's going to play and be an exciting quarterback to watch, but he's got a lot to learn."
'Rookie Mistakes'
Manziel has faced criticism for some of his on- and off-field actions heading into his first NFL season. He might be fined by the NFL for making an obscene gesture at the Washington Redskins' bench after throwing an incomplete pass in a preseason game. Manziel also said he made some "rookie mistakes" in the weeks after being drafted, when his priorities were questioned because he attended a Los Angeles party with singer Justin Bieber and photos were posted online of him lounging in a pool in Las Vegas.
Pettine, who's in his first season as a head coach, said the decision to start Hoyer isn't a slight against Manziel.
"He's certainly made great strides," Pettine said of Manziel. "We are pleased with where he is, and he has shown that he has come a long way in his ability to pick up the playbook, be coachable and lead an offense. We are confident that Johnny is going to have a great future, but we just felt that Brian still had a decided edge on him."
Manziel said he hasn't done anything during the preseason to "really jump off the page" and win the starting job.
"It's disappointing, but at the same time I want what's best for this team moving forward," he said. "I'm going to come out and do the best I can every day and improve. I need to continue to get ready to play, whenever that is."
Before it's here, it's on the Bloomberg Terminal.
LEARN MORE