Jackson Hole Rally at Risk as Investors Preempt Yellen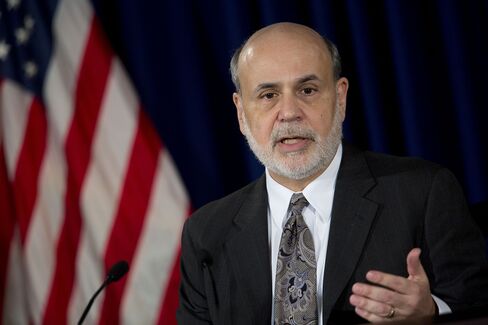 The end of the Jackson Hole bull run may be at hand.
Every time then-Federal Reserve Chairman Ben S. Bernanke spoke at the annual monetary policy symposium in the shadow of Wyoming's Teton mountains since 2007, stocks rallied. With Janet Yellen set to make her first speech to the conference as central bank chief on Aug. 22, investors may be setting themselves up for a fall, according to Steven Englander, global head of G-10 foreign exchange strategy at Citigroup Inc.
"We worry that dovishness is increasingly anticipated and that by the time we get to her talk anything less than 'full dovishness' will be a disappointment," said Englander, describing "full dovishness" as giving more room for extended monetary stimulus.
Repetition of the status quo "even accompanied by rhetoric and optimism, is hawkish because it suggests that normalization is coming as we get closer to the targets," Englander said in an Aug. 18 report.
Disappointing the audience would mark a reversal of recent history. For most of the past seven years, the Fed chief's keynote speech on the conference's first full day proved a buy signal for U.S. stocks with the Standard & Poor's 500 Index climbing an average 1.3 percent on such days from 2007 to 2012. Bernanke skipped last year's meeting.
Bernanke Gains
The biggest gain was the 1.9 percent of 2009, when Bernanke said economic activity appeared to be "levelling out" after the financial crisis. He perhaps spoke prematurely; at the Jackson Hole gatherings of 2010 and 2012 he signaled plans for quantitative easing, spurring increases of 1.7 percent and 0.5 percent respectively.
Only Bernanke's first Jackson Hole speech as Fed chairman in 2006 proved a dud; the S&P 500 Index ended that day down 0.1 percent.
To critics, Yellen is seen as a stock booster. Allan Meltzer, a Jackson Hole regular and historian of the Fed, has accused her of ''goosing'' equities with a bias toward easy money.
At Goldman Sachs Group Inc., economist Kris Dawsey is predicting Yellen will stick by her "quite dovish" views of late in saying the condition of the labor market merits a continuation of easy monetary policy.
The policy-setting Federal Open Market Committee said last month that "a range" of indicators suggest "significant underutilization of labor resources." The minutes from the panel's most recent meeting are due out today.
In Yellen's speech, "any repetition of the notion that there is still a lot of slack in the labor market is likely to be interpreted as dovish," said Roberto Perli and colleagues at Cornerstone Macro LP in a report yesterday. "However, this has to be balanced with the fact that most investors already seem to have very dovish expectations going in."
"In the end, the speech might result in market volatility more than anything else."