Hertz Plunges on Auto Recalls, Accounting Problems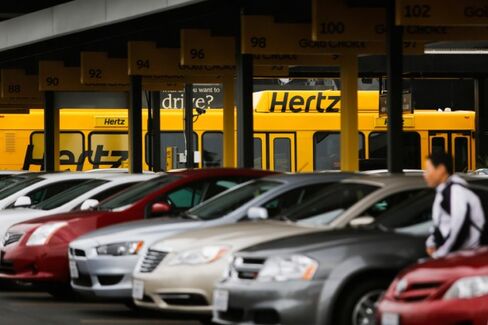 The wave of auto industry recalls has dinged car rental chains, and few are suffering as much as Hertz Global Holdings. The Florida-based firm withdrew its profit guidance for the year, given the costs of the recalls and an ongoing accounting review of the past three years of company results.
Hertz—which has not reported any financial results this year because of the accounting problems—said on Tuesday evening that it expects profits to "be well below the low end of its 2014 guidance," given the massive auto recalls, higher operating expenses in the U.S. fleet, and soft demand in its construction-equipment rental business. Hertz had planned to spin off that unit early next year, but says the transaction may be delayed due to the accounting review, which began in March.
The operational troubles have attracted calls for change, with activist investor Carl Icahn disclosing an 8.5 percent stake in Hertz and his "lack of confidence in management." Icahn will seek talks with Hertz directors, and possibly a board seat, his fund said Wednesday in a regulatory filing. Another hedge fund investor, Fir Tree Partners, called for Hertz directors to replace Chief Executive Officer Mark Frissora. "The CEO has had some serious missteps, and it's time for a change," Fir Tree spokesman Scott Tagliarino told Bloomberg News. The fund has a 3.1 percent stake in Hertz.
Given the operational troubles, Hertz withdrew its profit forecast for the year. In response, spooked investors sent shares down more than 10 percent on Wednesday morning, before news of Icahn's stake arrested the slide. Hertz shares finished 4 percent lower.
The auto industry has recalled more than 44 million vehicles this year, with General Motors accounting for more than half. The recalls have forced rental chains to pull cars from their fleets for repairs, which has required shuffling vehicles and led to tight inventory in some places. GM is a major supplier for all the large chains; Hertz has GM's Chevrolet Malibu and Buick LaCrosse sedans, along with a variety of GM sport utility vehicles in its U.S. fleet.
"While demand was trending ahead of plan, transaction days in the 2014 second quarter were tempered by already tight fleets in the face of rising [manufacturer] recall activity, which limited the company's ability to convert demand into transaction days," Hertz said. Total daily revenue rose 2 percent in the second quarter, with daily revenue at airport locations rising 5 percent. International rental revenues rose 7 percent.
Still, the recalls are a temporary drag on an industry that has been consolidating, trimming its fleet sizes, and reaping robust pricing power in return. Avis Budget Group, the third-largest U.S. rental chain, crowed earlier this month that business has never been better and raised its profit forecast for the year. At Hertz, the operating environment isn't nearly so pleasant.
Before it's here, it's on the Bloomberg Terminal.
LEARN MORE