Dog People Are More Reliable Than Cat People, and Other Fuzzy Truths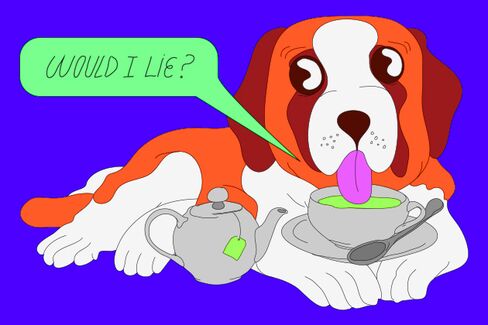 Now the dog people of Facebook can say they are more honest than the cat people. It's a claim officially supported in an online survey of more than 17,500 people by Coca-Cola's Honest Tea in its fifth annual "honesty survey."
The survey is the brand's largest marketing campaign each year—it blows through nearly 10 percent of its marketing budget—but this is the first time it has relied on a digital audience. Through a Facebook application, Honest Tea asked people if they would share a branded image on their wall in exchange for a beverage coupon. If the user agreed, they were presented with a few images to choose from, or the option to decline. Honest Tea labeled the 5 percent of users who didn't share the image "dishonest." But regardless of whether they held up their end of the deal, Honest Tea gave them a coupon (this is a marketing campaign, after all).
Honest Tea filtered the results based on information about respondents' Facebook profiles and the groups and pages they liked. About 98 percent of people who Facebook-like puppies followed through, compared with 95 percent who Facebook-like kittens.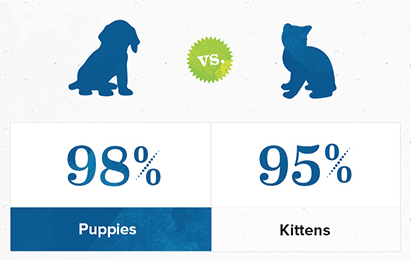 No matter how Honest Tea crunched its data, the vast majority of people were trustworthy—that is, they posted the image as requested. An astonishing 100 percent of rock and hip-hop fans followed through, vs. 97 percent of country fans. Based on their relationship status, people who identified themselves as separated were more truthful (100 percent); those who said they were engaged, the least (94 percent). And Homeland fans are the worst (90 percent), Cops fans the best (100 percent).
Reasonable people can argue about whether this is actually a good way to evaluate honesty. In a more involved, off-line experiment, Honest Tea set up displays with drinks for $1 on an honor system and gathered data on about 12,000 people. Honolulu was the most honest city and Providence, R.I., the least.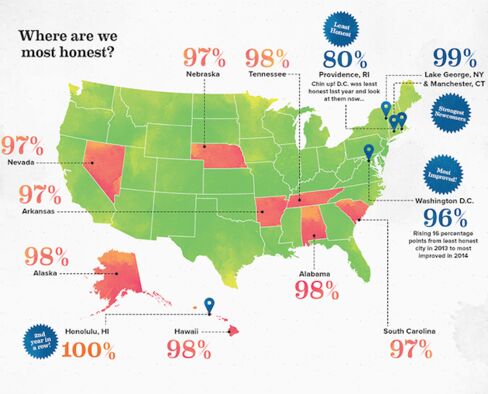 So if an engaged, kitten-loving country music fan in Providence snatches your wallet, well, you can't say we didn't warn you.
Before it's here, it's on the Bloomberg Terminal.
LEARN MORE