Dodgers TV Row Fuels Unease Over Comcast-Time Warner Deal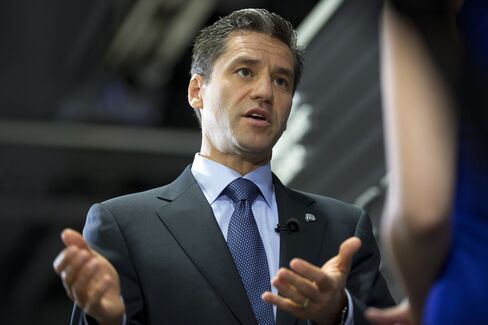 A fee dispute between Time Warner Cable Inc. and its competitors that has left Los Angeles Dodgers games blacked out for most fans is threatening to undermine the merger of the nation's two largest cable-television companies.
The decision by Time Warner Cable to raise the rates for competitors to air the baseball games has met resistance from companies including AT&T Inc. and DirecTV. An analysis based on data from SNL Kagan found that Time Warner Cable is asking for more than double what other regional sports networks charge.
With federal regulators now taking an interest in why 70 percent of local pay-TV customers have been without access to Dodgers games for months, the standoff could trip up Comcast Corp. as it tries to complete its acquisition of Time Warner Cable. Concern that the combined company's heft would be wielded in a way that hurts competitors could lead regulators to block or impose conditions on the $42.5 billion merger.
"Sports fans are getting clobbered," said Hal Singer, a Washington-based economist with consulting firm Economists Inc. "Either you're denied access to the content because your distributor won't carry it at the ridiculous price, or you're forced to incur the switching costs" to change providers.
Sporting events are often used as a bargaining weapon like this because live contests are must-see programming and many customers will switch providers to view games, Singer said.
SportsNet LA
This is the first season Time Warner Cable, the second-largest U.S. cable company, has handled distribution of Dodgers programming for SportsNet LA, an entity created by the Dodgers ownership that includes Guggenheim Partners Chief Executive Officer Mark Walter and basketball hall-of-famer Magic Johnson. It's asking competitors to pay $3.84 a month per subscriber to air the games, according to data from SNL Kagan.
The three other regional sports networks tracked by SNL Kagan that aren't owned by Time Warner Cable charge a maximum of $1.84.
"SportsNet LA is available on fair terms consistent with its value," Andrew Fegyveresi, a spokesman for New York-based Time Warner Cable, said in an e-mail.
Regulators reviewing Comcast's acquisition of Time Warner Cable have the power to limit the enlarged company's ability to boost prices for sports programming.
That was the position Comcast found itself in three years ago when it was buying NBC Universal. Competitors including DirecTV, the largest U.S. satellite provider, had urged regulators to keep Comcast from unfairly withholding NBC shows, or charging unreasonably high rates.
Sports Withheld
The FCC required Comcast to submit to arbitration in case of a dispute. The condition was justified partly because Comcast had cut the satellite-TV share in its home market by withholding professional baseball, basketball and hockey programming, the FCC said.
Paul Gallant, a Washington-based analyst with Guggenheim Securities, predicts the Time Warner Cable deal will be approved, with a risk of "onerous conditions." Philadelphia-based Comcast is the largest U.S. cable company.
Kim Hart, an FCC spokeswoman, declined to comment.
The struggle over baseball in the second-largest U.S. media market provoked FCC Chairman Tom Wheeler to weigh in. In a July 29 letter to Time Warner Cable Chief Executive Officer Rob Marcus, Wheeler said "your actions appear to have created the inability of consumers" to watch Dodgers games.
'Iconic Voice'
The letter suggests that Wheeler will demand limits on Comcast's power to squeeze other distributors over access to its sports channels, Gallant said in a note to clients.
Eight members of Congress wrote to Wheeler last month, asking the FCC to mediate the dispute. They said they wanted viewers to again hear announcer Vin Scully's "iconic voice."
"Hey, Time Warner, come on now: 30 percent of Los Angeles gets to watch the Dodgers through you and only you, and 70 percent don't," U.S. Representative Tony Cardenas, a letter-signer and Democrat who represents California's San Fernando Valley, said in an interview.
The purchase of Time Warner Cable would give Comcast "an incredibly dominant position" because of its control of programming and subscribers, Cardenas said.
While lawmakers don't have a direct say in reviews of corporate acquisitions, they can influence the agencies vetting the deals by holding hearings, conducting investigations, and controlling appointments and budgets.
Winning Season
Dodger TV fans are missing a winning season. The team is leading the National League Western Division, with the help of stellar performances by pitcher Clayton Kershaw and outfielder Yasiel Puig. It's also leading the National and American leagues in attendance, with 2.8 million fans so far this year.
As the blackout drags on, some viewers are circulating petitions calling for an end to the impasse.
"Fans aren't happy," Ernest Reyes, a Los Angeles-based financial consultant who in his spare time writes the Blue Heaven fan blog.
Optimism about ending the blackout is low, he said.
"At this point in the season, it almost seems like a lost cause," Reyes said.
Retired Los Angeles resident Rodges Lawton Jr. said he watches Dodgers games at sports bars and over the Internet rather than get Time Warner Cable.
The Dodgers "should have made it clear that LA Sportsnet is for all of Los Angeles and not just a Time Warner commodity," Lawton said by e-mail. "The fans are being held hostage."
Reduced Forecast
Steve Brener, a Dodgers spokesman, declined to comment.
Asked whether satellite customers have moved to Time Warner to get SportsNet LA, Marcus on a July 31 earnings call said, "I guess you can make that connection."
On the same call, Time Warner said it reduced its earnings forecast because it hadn't struck deals for SportsNet LA.
DirecTV, with more than 1 million Los Angeles customers, doesn't want to force the fee for Dodgers games on all subscribers, Dan York, the company's chief content officer, said in an interview.
Comcast said FCC rules requiring fair access to programming, along with the arbitration conditions, address "theoretical" concerns about unfairly wielding regional sports during negotiations and not specific practices by the company.
'Competitive Arena'
"Comcast/NBCUniversal bargains fairly for carriage of sports programming, which is an extremely competitive arena," Sena Fitzmaurice, a spokeswoman in Washington, said by e-mail.
By buying Time Warner Cable, Comcast gains entry to the biggest U.S. media market, New York, as well as No. 2 Los Angeles. The company would grow by 7 million subscribers, to 29 million residential video customers. Comcast would assume Time Warner Cable's role with the Dodgers and get two sports networks, one in English and one in Spanish, that cover the National Basketball Association's Lakers team.
In New York, Comcast's minority ownership share of SportsNet New York, which shows the baseball Mets and is controlled by the team, would grow.
Sports Bundles
Comcast could bundle the sports programming with its WNBC TV station, giving it power to charge higher prices to New Yorkers subscribing to rivals, law professors Zephyr Teachout and Tim Wu, candidates for governor and lieutenant governor of New York State, said in a filing.
Kevin Sornatale, a spokesman for SportsNet New York, declined to comment.
Regional sports networks owned by a cable company demand higher prices than those that are independent, and the tendency increases with the size of the cable company's customer base, within the team's TV market, Singer said.
Competitors are watching, warily.
"Comcast will have a new incentive to charge its rivals more for regional sports" as it gains subscribers in more areas and sees more opportunities for revenue, Ross Lieberman, senior vice president of government affairs at the American Cable Association, a Pittsburgh-based trade group for smaller rivals to Comcast, said in an interview.
Pricing Power
The combined company may use a threat of withholding programs when negotiating, Lieberman said. The tactic has especially sharp teeth where Comcast controls regional sports, a local NBC station and national programming.
"When you can pull all that programming at the same time, you're able to inflict more harm," Lieberman said.
Regulators may not be worried by Comcast's command of more sports programming unless they find it would raise prices, said Herb Hovenkamp, an antitrust professor at the University of Iowa in Iowa City.
"Making companies bigger doesn't ordinarily result in higher prices," he said. "Eliminating competition can, but because cable companies don't usually compete in the same areas the merger doesn't eliminate very much head-to-head competition."
Comcast has told Congress that having more regional sports doesn't give it more leverage over rivals.
The competitive dynamic today for Time Warner Cable negotiating sports-network deals "will be exactly the same" for Comcast, David Cohen, executive vice president, said at an April hearing before the Senate Judiciary Committee.
"We're not going to have any more power in the L.A. market to negotiate different deals because we also own regional sports nets in Chicago and Philadelphia and the Washington area," Cohen said.
That notion isn't universally accepted.
"Sports is one of the largest cudgels Comcast has, and they just use it every way they can," said Susan Crawford, a former White House aide and a Bloomberg View columnist whose book "Captive Audience" uses Comcast's purchase of NBC Universal as a lens to examine the telecommunications market. "And now with the merger they're going to be able to do that on a larger scale."
Before it's here, it's on the Bloomberg Terminal.
LEARN MORE