On Taco Bell's New Dollar Menu, Everything Will Actually Cost $1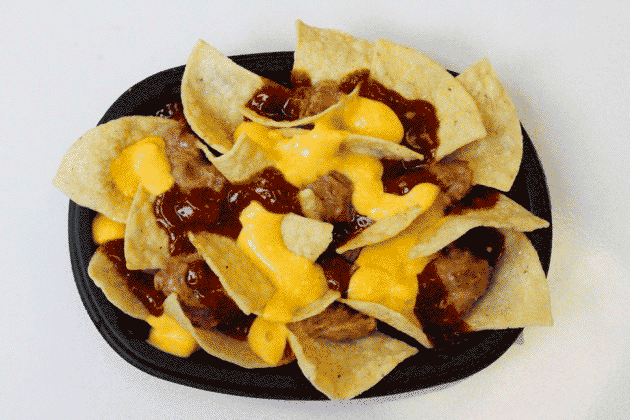 The Dollar Menu used to be pretty straightforward: The items on it cost $1. Then, in order to raise prices, McDonald's introduced the the "Dollar Menu & More"; Burger King puts its budget bites on a "King Deals Value Menu." Taco Bell, however, is not messing around. It launched a "Dollar Cravings Menu" on Monday, with 11 items that each cost—wait for it—$1.
There is a catch. The menu includes four items that were previously available for less than $1: Cinnamon Twists and Cheesy Roll-ups used to cost 89¢, and Potato Soft Tacos and Caramel Empanadas were 99¢ each. There are also seven new items, including something called the Beefy Fritos Burrito.
So Taco Bell will earn a little extra money on a few items, and the chain expects customers to buy more than one item. "Consumers loved getting their own variety of dollar menu items to create their own unique meals," said Stephanie Perdue, vice president of brand marketing. Taco Bell has long touted the customizable nature of its menu items; about three-fourths of orders at the chain include special requests such as extra cheese or no meat.
Fast-food customers are still price-sensitive. As prices rise at rival chains, Taco Bell wants to stand out by staying low. "What we heard from customers is that they're looking to get the most for their dollar," said Perdue. And having $1 items—no matter how few—remains important. McDonald's has also recently emphasized the need to offer customers better value: Even it has expanded its "dollar" menu, it added two new $1 sandwiches.
The idea, after all, is as much about the drinks as it is about the food. Fountain soda is ridiculously profitable—a 20-ounce soda might cost a restaurant 22¢, all in. Surely customers will want something to wash down that Beefy Fritos Burrito. As we reported earlier this year, Taco Bell's restaurant margin (a measure of profit divided by sales) is already close to 20 percent, higher than either Pizza Hut or KFC. Yum's average restaurant margin in the U.S. was 16.9 percent in 2013.
Before it's here, it's on the Bloomberg Terminal.
LEARN MORE