Khan Marches Past Riot Police, Adding Pressure on Sharif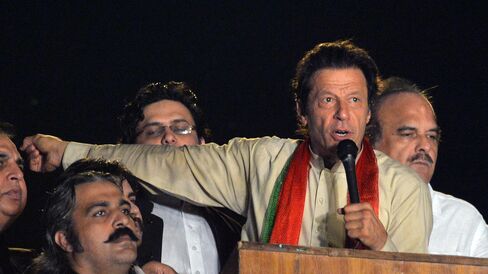 Pakistani opposition leader Imran Khan led thousands of supporters past riot police to the parliament building in Islamabad, adding pressure on Prime Minister Nawaz Sharif to resign after six days of protests.
Khan's supporters removed barbed wire and shipping containers that blocked roads heading to the "red zone" established by Islamabad police. Officers stepped aside as men, women and children draped in flags of Khan's Pakistan Tehreek-e-Insaf walked on one of the capital's main boulevards.
"Pakistani nation will get independence from this cruel and corrupt system," Khan said on Twitter today. He has rallied thousands of people over the past six days in a move to oust Sharif on the grounds that authorities failed to properly investigate allegations of fraud in last year's election.
A confrontation with security forces would escalate an attempt by Khan and cleric Muhammad Tahir-ul-Qadri to oust Sharif's 15-month-old government through a show of force on Pakistan's streets. The demonstration threatens Sharif's efforts to revive Pakistan's finances and fight a Taliban insurgency that has killed more than 55,000 people since 2001.
Situation 'Severe'
"The government will be left with increasingly limited options -- so severe is the current situation," Hasan-Askari Rizvi, a Lahore-based analyst who formerly taught at Columbia University in New York, told Dunya TV last night. "Because their options are drying up, eventually it will be left with the army to deal with managing things."
The benchmark KSE 100 Index, which lost 1.6 percent last week, remained little changed in Karachi at 1:32 p.m. The rupee declined about 0.4 percent to its lowest level since March 10.
"The current situation will continue to haunt investor sentiment," Qasim Anwar, an equity dealer at AKD Securities in Karachi, said in an e-mail.
The discord may enhance the role of Pakistan's military, which has ruled the nuclear-armed country of 196 million people for more than half of its history. Pakistan, which has received billions of dollars in U.S. aid to fight Taliban and al-Qaeda militants, has also been accused of supporting terrorism to suit its aims in neighboring Afghanistan and India.
Troops Deployed
The army deployed troops into the red zone after Sharif's administration authorized them to protect the area. About 350 troops were deployed to the area, bringing the total to 700, according to a senior army officer who asked not to be identified because he's not authorized to speak with the media.
Sharif has vowed to finish out his five-year term that ends in 2018 while offering to probe allegations of election fraud. He refrained from ordering the use of force on protesters because women and children were on the front lines, according to a Twitter post by Maryam Nawaz Sharif, his daughter.
Interior Minister Chaudhry Nisar Ali Khan yesterday said the army wasn't behind the political standoff and repeated a call for talks. Sharif attended a parliament session today.
'Not Stubborn'
"Let me assure you we are not stubborn," Shah Mahmood Qureshi, a former foreign minister and a member of Khan's party, said by phone. "We are open to dialogue provided we see seriousness. So far, the government has not exhibited seriousness, and they are playing games in the name of dialogue."
Khan and Qadri set up protest camps in Islamabad last week in a bid to oust Sharif over allegations that he rigged last year's election and benefited personally from government contracts. Supporters have slept on the streets over the past few days, triggering concerns the military would seize power.
Khan, a former cricket star whose party was the third biggest in parliament, called on supporters of his to remain peaceful and warned police against stopping them. He said he needed to act now because authorities dismissed his complaints of fraud in last year's election because of a lack of evidence.
Khan has sought to increase pressure on Sharif over the past few days, calling on supporters to stop paying tax and announcing that all the party's lawmakers elected in last year's national vote would resign. The party is for now retaining power in Khyber Pakhtunkhwa, the one province it controls.
"If they occupy a major building in the red zone then that will be something very serious," Umbreen Javaid, head of the political science department at the University of Punjab, said by phone from Lahore.
Before it's here, it's on the Bloomberg Terminal.
LEARN MORE