Irish Plot Early IMF Loan Payback as Yields Plunge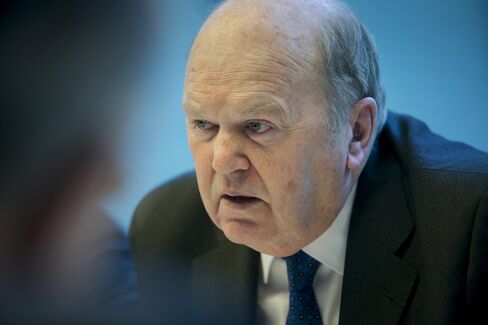 As Ireland's chances of a refund on the cost of saving its banks fade, bond investors are helping the government's latest plan to reduce the debt burden.
Next month, Finance Minister Michael Noonan will start fleshing out a proposal to repay about 15 billion euros ($20 billion) of bailout loans from the International Monetary Fund early, partly using cheaper money raised in the bond market. Last week, the yield on Ireland's benchmark 10-year government bonds fell below 2 percent for the first time on record.
Ireland is due to repay the last IMF bailout loan in 2023 and refinancing may save as much as 375 million euros a year, Noonan told reporters in Dublin last month. Any financial benefit may also help mitigate concern over the slowing momentum behind efforts to claw back some of the 64 billion-euro bank rescue bill from the euro area's rescue fund.
"The government's campaign for retroactive recapitalization of its banks was never realistic in our view," said Philip O'Sullivan, an economist at Investec Plc in Dublin. "In order to avoid a political backlash for failing to secure a deal, it seems to be turning its attention to negotiating an acceptable and achievable alternative."
More Expensive
Ireland sought the rescue in 2010 as its banks came close to collapse in the wake of western Europe's worst real-estate market bust. The IMF contributed 22.5 billion euros to the 67.5 billion-euro bailout program, which ended last year. The European Union loaned 45 billion euros.
The loans from the Washington-based IMF carried an effective 4.99 percent interest rate at the end of March, according to the Finance Ministry.
With Fitch Ratings last week raising Ireland's sovereign credit rating to A- from BBB+, the yield on benchmark 10-year bonds dropped to 1.93 percent yesterday, from a peak of 14.2 percent in July 2011. The spread, or difference, with equivalent German bonds has narrowed to 93 basis points.
Last month, Noonan told reporters he'd like to refinance the first 5 billion euros of IMF loans before Christmas, a further 5 billion euros in the first half of 2015 and a final 5 billion euros in 2016.
Making Savings
"If we refinance the IMF loans and make savings, then we increase our capacity to repay the debt to everybody else," Noonan said at the July 28 release of the National Treasury Management Agency's mid-year review.
The debt agency could sell more bonds to repay the loans. Last month, the agency sold 500 million euros of 10-year bonds at a yield of 2.32 percent. The government could also use the state's existing cash pile, which stood at 20.6 billion euros at the end of last month, to repay the IMF.
The cash is "probably" earning 0.5 percent on deposit while the government pays a weighted average 3 to 3.5 percent on its borrowings, said Conall Mac Coille at Dublin-based Davy, Ireland's largest securities firm. "The NTMA is under huge pressure to lower its cash balances," he said.
In a letter published last week, the IMF's mission chief to Ireland, Craig Beaumont, said the country could repay its loans early without incurring any penalty.
"The structure of IMF surcharges is intended to provide incentives to avoid large and prolonged borrowings," he said in the letter, responding to questions from Michael McGrath, finance spokesman for Fianna Fail, the largest opposition political party whose government took Ireland into the bailout.
European Hurdles
The main hurdle may be other governments around Europe. Noonan told reporters that Ireland has an agreement that if one bailout creditor is repaid ahead of schedule, all the lenders must also get their money back. There's no advantage to Ireland in repaying the European loans early, he said.
Other European countries are doing little to help the government win a refund of the money it spent saving the country's financial system.
While then Irish Deputy Prime Minister Eamon Gilmore hailed a 2012 pledge by EU leaders to sever the link between sovereign and bank debt as "a major game changer," it's produced no dividend for the government as yet.
"In many ways, it'd probably be even more difficult to Ireland to get money from the European Stability Mechanism for its banks if it's looking to pay back IMF loans from cash it has itself or can raise in the market," said Jens Peter Soerensen, chief bond analyst in Copenhagen at Danske Bank A/S, which participates in Irish government debt auctions as a primary dealer. "Paying down the IMF loans makes sense and will be very helpful for the Irish economy."