Gaza Truce Deadlines Expires Amid Renewed Attacks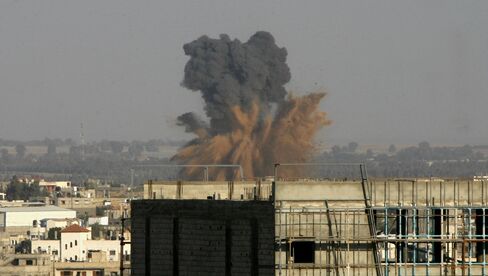 An Egyptian-brokered truce in the Gaza Strip expired after Palestinian militants renewed rocket fire and Israeli air raids left three dead.
Israeli and Palestinian negotiators in Cairo yesterday failed to extend a series of temporary cease-fires that had lasted nine days, with Prime Minister Benjamin Netanyahu calling back his team hours before a midnight deadline. Hamas's military wing said it was responsible for firing the rockets.
At least 50 rockets hit Israeli territory late yesterday, without causing injuries, with one damaging a coffee shop, according to police. Israeli air raids struck at least 25 targets in Gaza, killing 3 Palestinians, including a child, according to the Hamas-controlled Gaza Health Ministry.
Israeli government spokesman Mark Regev called the rocket fire a "grave and direct violation of the cease-fire to which Hamas committed itself."
The ending of the truce and the spike in violence has raised the possibility of a new ground offensive by the Israeli military as the prospect of finding a last peace deal fades. Palestinian negotiator Azzam al-Ahmad blamed Israel for the collapse of the talks.
"The Israeli delegation fled the negotiations and their departure was designed to undermine the talks," Ahmed told reporters in Cairo.
Military Commander
Hamas official Musa Abu Marzouk, who was among the negotiators in Cairo, said on his Facebook page that Israeli airstrikes targeted the home of Hamas military commander Mohammed Deif and killed his wife and daughter.
Deif has survived several Israeli assassination attempts.
Negotiators have been trying for more than a week to reach an agreement to end hostilities that began July 8. The fighting has killed more than 2,000 Palestinians, including hundreds of civilians, and 67 people on the Israeli side, all but three of them soldiers.
Israel withdrew ground troops from Gaza on Aug. 5 following a four-week offensive that it said was designed to end years of rocket fire and destroy tunnels militants built to infiltrate Israel. Rocket attacks by militants and Israeli airstrikes have violated the cease-fire in recent weeks without leading to a renewed ground offensive in Gaza.
Hamas, which is considered a terrorist group by Israel, the U.S. and European Union, has demanded an end to the blockade on the coastal territory that Israel, citing security considerations, initiated after the militant group won Palestinian elections in 2006. Israel has sought assurances that militants won't resume their rocket attacks and cross-border raids.
Egypt Plan
Even with the loss of life and damage from Israeli air raids, Hamas may emerge politically stronger from the confrontation with Israel, said Youssef Munayyer, executive director of the Washington-based Palestine Center, a research group.
"They might actually benefit politically from the war because they were able to inflict unprecedented losses on the Israeli military," Munayyer said in an e-mail.
The Tel Aviv Stock Exchange's benchmark TA-25 Index was little changed yesterday, while the shekel dropped 0.4 percent. The yield on Israel's benchmark government bond fell 2 basis points, or 0.02 percentage point, to 2.64 percent.
Egypt had proposed an 11-point truce plan that includes halting hostilities, easing the Israeli blockade and giving the West Bank-based Palestinian Authority a role in rebuilding the territory, according to a report in Egypt's Al-Shorouk newspaper.
Israel withdrew ground troops from Gaza on Aug. 5 after criticism from the US and elsewhere for the number of civilians its military killed. Israel accuses Hamas of deliberately putting civilians in harm's way.
Before it's here, it's on the Bloomberg Terminal.
LEARN MORE