Ferguson Police Shooting Grand Jury Probe Starts Tomorrow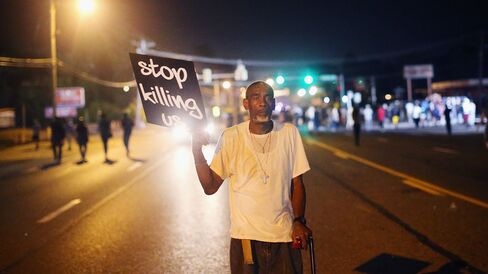 A grand jury will begin hearing evidence tomorrow in the police shooting death of Ferguson, Missouri, teenager Michael Brown, as violent clashes continued in the St. Louis suburb.
Witnesses are scheduled to appear before the grand jury, Ed Magee, a spokesman for St. Louis County Prosecuting Attorney Bob McCulloch, said in a telephone interview today. The shooting sparked more than a week of violent protests in Ferguson.
The state grand-jury probe comes as federal officials are starting a civil-rights' investigation into the death of the unarmed black teenager. President Barack Obama has ordered U.S. Attorney General Eric Holder to go to Ferguson and meet with FBI agents and Justice Department lawyers handling the probe into the circumstances of Brown's death.
Police fired tear gas at protesters and 31 people were arrested in Ferguson last night after demonstrators refused to leave a section of the city that has been the epicenter of protests. Protesters hurled bottles and Molotov cocktails, and gunshots were fired, wounding two people, according to police. The victims, both male, weren't shot by police, authorities said.
Brown, 18, was killed Aug. 9 by Darren Wilson, a white Ferguson police officer, after being stopped on a city street, Police Chief Thomas Jackson said earlier.
Officer's Testimony
Wilson has the right to testify before the grand jury, Magee said. It's not clear how long the proceedings will take or how many witnesses will be called, he said.
Greg Kloeppel, Wilson's lawyer, declined in a telephone interview to comment on the grand jury. Kloeppel is chief legal counsel for a local chapter of the Missouri Fraternal Order of Police.
Evidence is still being collected and the probe is "far from being finished," so there's no timeline for the case, Magee said yesterday.
The grand jury must decide whether Wilson violated the law by shooting the teenager and whether he should face charges ranging from manslaughter to murder, said Gordon Ankney, a former assistant county prosecutor who now does criminal defense work in St. Louis.
Three Autopsies
Three autopsies were conducted on Brown's body. Forensic examinations were done by county officials and a pathologist hired by Brown's family. The federal government's autopsy was conducted yesterday.
The family's pathologist said yesterday the teenager was shot six times. The examination, conducted by former New York City chief medical examiner Michael Baden, shows at least two gunshot wounds to Brown's head.
Those shots, one of which exited around his eye, probably caused fatal damage to the brain, Baden said yesterday.
The separate examinations shouldn't cause evidentiary issues at a subsequent trial, Ankney said.
"I don't think multiple autopsies will complicate things," Ankney said. "Things such as entry and exit wounds are pretty easy to establish. It's trying to interpret what those wounds mean that can lead to debate."
The grand jury will have to decide what led to the shooting, said John Appelbaum, a criminal defense lawyer.
"If the grand jury finds the shooting was justified, he won't face any state charges," Appelbaum, in private practice in Arnold, Missouri, south of St. Louis, said in a telephone interview.
A police officer has authority to use deadly force if he reasonably believes a suspect presents a threat, he added.
Before it's here, it's on the Bloomberg Terminal.
LEARN MORE