Banks Need as Much Writedown Debt as Equity, Tucker Says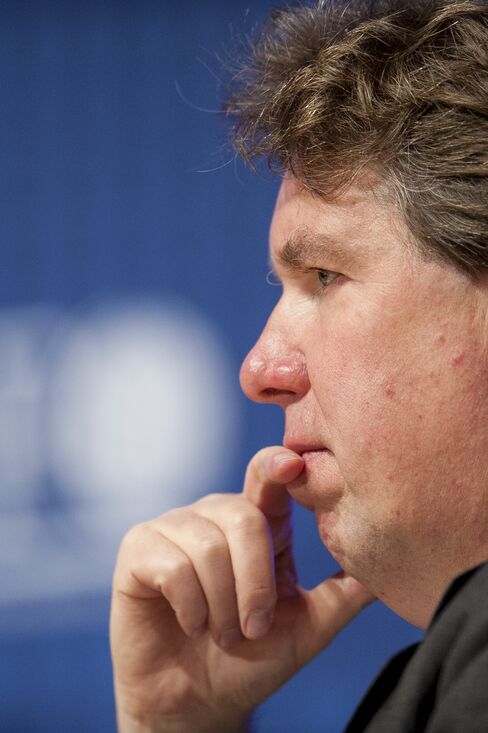 Former Bank of England Deputy Governor Paul Tucker called on the Group of 20 nations to be "ambitious" and require systemic banks to have a buffer of loss-absorbing debt as large as their capital base.
"The biggest global banks are required to have equity of roughly 10 percent of their so-called risk-weighted assets," Tucker said late yesterday in an interview with Bloomberg News in Salzburg, Austria. "They should be required to have bonds in issue of about 10 percent -- maybe a bit less for some of the slightly smaller banks."
Global regulators are split over how far to push the biggest banks to issue unsecured debt and other instruments that could be written down in a crisis. Bank of England Governor Mark Carney, who leads an international group of regulators known as the Financial Stability Board, is seeking to forge a consensus before a November meeting of G-20 leaders in Brisbane, Australia. The rules are meant to prevent a recurrence of the taxpayer-funded bailouts that followed the collapse of Lehman Brothers Holdings Inc.
The issue of the cushion of liabilities banks should have that can be wiped out or converted to equity in a crisis arose most recently in Europe with the collapse of Portugal's Banco Espirito Santo SA. The Bank of Portugal unveiled a 4.9 billion-euro ($6.6 billion) bailout that will leave shareholders and junior bondholders with losses, while sparing senior creditors and unsecured depositors.
"That may have been the right thing to do in the particular circumstances, but it should not set a precedent for the future," said Tucker, also a former chairman of the FSB's steering group on bank resolution rules.
Senior Bondholders
"The steady-state regime has to be one in which bondholders take losses and not the state," he said. "I'm not criticizing the Portuguese. They may have done exactly the right thing. But when the preparations for resolution are complete, this should not set a precedent. Losses have to go to bondholders -- including to senior bondholders."
Tucker said "there's probably work to be done" on creating more transparency in the market for loss-absorbing bank securities, "but I don't think this is overwhelmingly hard."
Banks and so-called shadow banks should not be allowed to hold such bonds issued by lenders, Tucker said, "because then all you're doing is transmitting the trouble from one part of the banking sector to another."
"And insurance companies, pension funds, regular mutual funds -- the bedrock of long-term investors -- there should probably be limits on how much of their portfolio is accounted for by bank bonds," he said. "But that's only common sense."