Shekel Bulls Flee as Traders Look for Flug's Plan B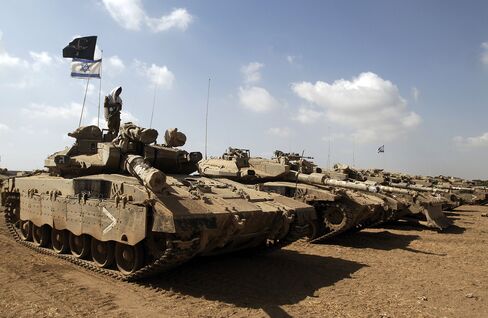 Citigroup Inc.'s Luis Costa says he knew it was time to turn bearish on the shekel when Israel cut interest rates last month and followed up by buying dollars less than two weeks later.
"With the Gaza conflict hurting an already lagging economy, it's going to be more rate cuts and more intervention to weaken the shekel," Costa, the head of Europe and Mideast strategy at the world's biggest currency trader in London, said in a phone interview Aug. 14. "It's different from previous interventions because they're now flirting with a zero-bound monetary policy. The market's starting to wonder, what's plan B?"
Firms from Bank Leumi Le-Israel Ltd. to Bank of America Corp., the most-accurate shekel forecaster in the second quarter, say the Bank of Israel, led by Governor Karnit Flug, is poised to step up efforts to keep the currency from appreciating too fast. It's a view reflected in the options market, where the cost of betting on shekel declines jumped this month to the highest level since 2012.
Fueled by a 2009 offshore gas discovery, the shekel has surged 15 percent versus the dollar in the past two years, the most among 31 major peers tracked by Bloomberg, threatening the exports that account for a third of Israel's economy at a time when the month-long hostilities with neighboring Gaza -- now subject to a five-day truce -- are hurting tourism. The central bank said July 28 the fighting may wipe 0.5 percentage point off the 2.9 percent economic growth it projects for this year.
The shekel weakened as much as 0.8 percent to 3.5134 per dollar, the lowest in nearly 6 months, at 10:29 a.m. in New York, compared with its three-year high of 3.4007 on July 15. It's the worst performer today among 31 major currencies tracked by Bloomberg.
Gaza Risk
"Normally the shekel is quite resilient to geopolitical events, but this is out of the ordinary," Lars Christensen, the chief emerging-market analyst at Danske Bank A/S in Copenhagen, said in a telephone interview on Aug. 14. "Israel's risk premium is increasing on the back of Gaza."
Israel started its military campaign in Gaza on July 8 to quash rocket fire and destroy infiltration tunnels built by Hamas to carry out cross-border raids. The conflict has killed more than 2,000 Palestinians, including hundreds of civilians, and 67 people on the Israeli side. The truce entered its final day today, as Israeli and Palestinian negotiators showed little movement from long-held positions.
Economic Reports
Israel's trade deficit increased in July to $1.49 billion as tourism, which employs almost 1 in 13 of the country's workforce, declined. A government report yesterday showed annualized GDP growth fell to 1.7 percent in the second quarter, from 2.8 percent in the preceding period. Israel's Central Bureau of Statistics said Aug. 11 that tourism was down 21 percent in July from a year earlier. The country's Purchasing Managers Index declined last month to 46.8 from 48.9 in June, indicating contraction of industrial activity "apparently influenced" by the fighting in Gaza, according to Bank Hapoalim Ltd.
The central bank unexpectedly lowered Israel's base rate a quarter-point to 0.5 percent on July 28. Policy makers then intervened in the currency markets 10 days later by purchasing several hundred million dollars.
"We saw a nice amount of hedge funds buying," Rony Gitlin, the head of spot trading at Bank Leumi in Tel Aviv, said by phone on Aug. 13. "And we don't see many companies selling at this point."
The shekel has slipped 2.4 percent since the rate cut. Citigroup predicts it will drop to 3.6 per dollar in three months. Bank Leumi, Israel's second-biggest lender, expects the currency to weaken beyond 3.6.
Hedge Funds
The premium on three-month options to sell the shekel over contracts allowing for purchases rose to 1.92 percentage points on Aug. 8, the highest level since August 2012, according to data compiled by Bloomberg. It fell 0.6 percent to 1.775 today.
For all those turning bearish on the shekel, strategists have raised their forecasts on the currency in the past nine months. The median of 15 estimates compiled by Bloomberg is for the shekel to be little changed at 3.48 per dollar by year-end. That compares with a prediction of 3.60 in November.
Israeli policy makers cut borrowing costs 11 times since August 2011 and bought dollars in April 2013 after a break of almost two years. The shekel has still appreciated 0.3 percent since Finance Minister Yair Lapid vowed on Oct. 24 to protect exporters from its gains.
Citigroup, Danske Bank and Bank Leumi say with room for further rate cuts running out, policy makers may turn this time to more radical measures, such as capping exchange rates.
Dollar Appetite
Rickey Achdut, a spokeswoman for the Bank of Israel, declined to comment when contacted by Bloomberg News on Aug. 13.
The central bank's appetite for dollar purchases may be increasing. Policy makers bought $1.39 billion in July, the most since January, bringing the total this year to $5.51 billion.
For Bank of America, the biggest threat to the shekel is inflation, which slowed to a seven-year low of 0.3 percent in the 12 months through July. While it's keeping a year-end forecast at 3.5 per dollar for now, the bank said the currency may plunge should declines in consumer prices accelerate.
"There are still significant risks," Arko Sen, the London-based head of Europe and Middle East currency strategy at Bank of America, said by phone on Aug. 12. "If inflation expectations don't stabilize above 1 percent, the shekel could weaken past 3.5."