Kelly: Releasing Ferguson Details Key to Ending Violence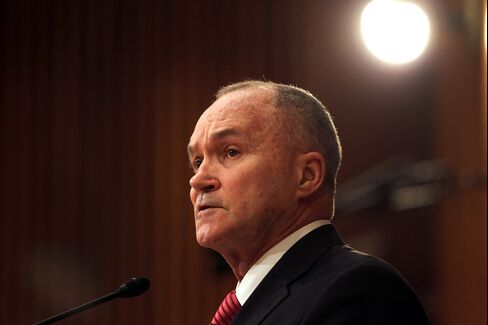 Officials can reduce violence in the St. Louis suburb of Ferguson by releasing all available details about the shooting death of an unarmed black teenager, said Raymond Kelly, a former New York City police commissioner.
Police in the Missouri city waited almost a week before disclosing the name of the white officer involved in the killing of 18-year-old Michael Brown on Aug. 9, and no official autopsy has been released. The Brown family yesterday provided its own autopsy, conducted by former New York City medical examiner Michael Baden, which showed the teenager had been shot at least six times.
Putting out information such as how many bullets were fired as early as possible is appreciated by people angered by such an event, said Kelly, president of risk management services for real estate brokerage Cushman & Wakefield Inc. in New York. It can help soothe tensions among protesters while those breaking the law are arrested, he said.
"It certainly has the potential for quelling or lessening disturbances," Kelly said in a telephone interview. "You tell them what you know and tell them what you don't know, rather than dribbling it out."
Missouri Governor Jay Nixon ordered the state National Guard to restore peace after a third straight night of violence in Ferguson. Early yesterday morning, organized groups attacked police officers with firearms and gasoline bombs, leading police to fire tear gas into the streets.
Not Core
While it's understandable that the governor would want Guardsmen brought in to help restore order, they should be used primarily for security on the perimeter of activity to free up police, who should be better trained to deal with the public, Kelly said.
"These are people who are, generally speaking, not trained in policing tactics," Kelly said. "Military don't do that; that's not in their core mission."
The National Guard can be helpful because there are elements of the community that don't trust the local police, said Scott Bates, president of the nonpartisan Center for National Policy in Washington and a former police commissioner in Stonington, Connecticut.
"It's performing the policing function, but maybe it's seen as more of a trusted party," Bates said. "It's a very strong statement -- whenever you see those uniforms on the street, it really is a wake-up call to everyone in the community that the situation is almost beyond control."
'Military Solution'
Norm Stamper, police chief in Seattle during demonstrations against the World Trade Organization in 1999, said he's still divided about using the National Guard then. While it helped bring peace and ensure safety, it was "a military solution to a First Amendment situation," he said.
It would help in Ferguson to assemble a crisis team of police, elected officials and members of the community with credibility to manage the conflict, speak with one voice and resolve tensions, Stamper said. "De-militarizing" the police would help, he said.
"Anything that we can do now to shift police officers out of that military mindset is vital," Stamper said.
Kelly, 72, was in charge when Sean Bell, an unarmed 23-year-old man, was killed by police in a 50-bullet barrage outside a nightclub in Queens just hours before he was to be married in November 2006. While the incident drew public outrage, it didn't spark the type of civil unrest seen in Ferguson.
One Voice
Besides getting out information quickly, it's important to have one person in charge of the tactical response, a single spokesman, and experienced legal advisers -- which hasn't always been evident in Ferguson, he said.
"The toothpaste is out of the tube here," Kelly said. "There's lots of things that should have been done differently, and you have to live with them."
While authorities may be following procedures to withhold information for any future court case, it's created a vacuum that is fueling speculation and heightening tensions, said Ed Davis, the former police commissioner in Boston. More compassion for the family and the community needs to be shown, said Davis, who led the department during the Boston Marathon bombings last year.
"It's hard to fix this because it's gone so bad," said Davis, who was commissioner from 2006 to 2013 and now leads Ed Davis LLC, a security advisory firm in Boston. "If people look at the human side of this and not just the legalistic side of it, they'd be better off right now."
'Mind-Boggling'
It's "mind-boggling" that the Ferguson Police Department of 53 has only three black officers for a community that is almost 70 percent black, Kelly said. It's critical that the force increases its diversity, he said.
The police need to focus on the "relatively small number of people who are committing crimes," while allowing others to peacefully demonstrate, Kelly said today on Bloomberg Television's "Market Makers."
Kelly worked from 2002 through 2013 under former Mayor Michael Bloomberg, the founder and majority owner of Bloomberg News parent Bloomberg LP. He also served an earlier stint, from 1992 to 1994, which makes him New York's longest-serving police commissioner.
Governance in Ferguson hasn't caught up with the increasing numbers of black residents, and the "old boy's network" of recruiting dominates many smaller police departments, said Colin Gordon, a professor at the University of Iowa who has mapped demographic shifts in the region.
'True Diversity'
"'My dad was a cop, I'm going to become a cop' is the sort of pipeline of recruitment," Gordon said.
Increasing the diversity of a police department isn't just the right thing to do morally; it also makes the force stronger, said Fred Bealefeld, a retired Baltimore police commissioner.
Bealefeld cited the Maryland city's efforts to recruit Latino officers during his time as commissioner from 2007 to 2012 in response to a growing Hispanic community.
"You can't say, 'Let's just teach a bunch of white guys to start speaking Spanish,' Bealefeld said. ''You have to recruit from within the Hispanic community so that you're getting true diversity."
Bealefeld said the best way to attract minority officers is to reach out to community groups and tap existing members of the force to recruit qualified friends and family members. Baltimore offered financial incentives for officers who did, he said. Kelly said he recruited officers at black churches.
Even so, it would be a mistake and setback for diversity to rush to hire officers who aren't qualified, Stamper in Seattle said.
"It requires immediate action, but it does not mean hiring individuals who are destined to fail," he said.
Before it's here, it's on the Bloomberg Terminal.
LEARN MORE