NFL Hall-of-Famer Carter Sues Tyco Over Failed Sale Deal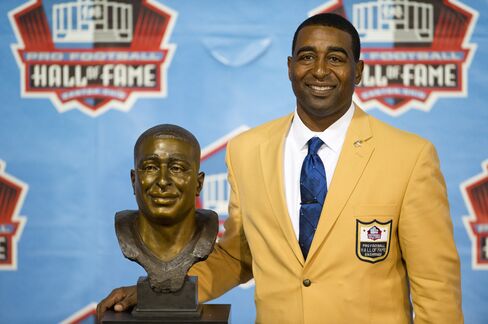 Cris Carter, a former wide receiver inducted into the National Football League's Hall of Fame last year, sued a Tyco International Ltd. unit he said failed to fulfill parts of a 2012 agreement to buy a division of his Carter Brothers security business.
Carter and his brother John formed a strategic alliance with Tyco in 2002 in which Tyco agreed to provide project management services and manage a database of qualified subcontractors, while providing sponsorship, sales management, training, development and management support, according to the complaint in New York State Supreme Court.
In October 2012 Tyco Integrated Security LLC agreed to buy the equity interest in Atlanta-based Carter Brothers LLC, which consisted of a fire and life safety division and a security division, for $35.8 million, according to the lawsuit.
The brothers said in the complaint that while they met the conditions of the sale, the Boca Raton, Florida-based Tyco unit has refused to pay $3 million that is still owed. The plaintiffs in the case filed Aug. 15 include Carter Brothers Inc. and Carter Brothers Security Services LLC.
Carter, 48, was named to eight Pro Bowls in his 16-year career with the Philadelphia Eagles, Minnesota Vikings and Miami Dolphins. His best years were in Minnesota, where he twice eclipsed the 100-catch plateau and had eight straight seasons with more than 1,000 yards receiving.
Touchdowns, Yardage
His 130 receiving touchdowns are fourth-most all-time behind Jerry Rice, Randy Moss and Terrell Owens. He's also Top 10 in receiving yards and receptions. Named to the NFL's All-Decade Team of the 1990s, Carter finished his career with one season in Miami. He was enshrined in the Canton, Ohio-based Pro Football Hall of Fame last year.
Stephen Wasdick, a spokesman for Neuhausen Am Rheinfall, Switzerland-based Tyco, and Ronald A. Giller, an attorney with Gordon & Rees LLP representing the Carters, didn't immediately respond to messages seeking comment on the lawsuit.
The Carter brothers' relationship with Tyco "deteriorated" and in 2012 they filed a complaint with the U.S. Justice Department alleging Tyco "engaged in bribery and fraudulent conduct" in connection with the award of federal procurement contracts, "which was anti-competitive and criminal in nature," according to the complaint.
Also, Tyco employees used a racial slur to refer to the Carters, who are black, in internal correspondence on multiple occasions, according to the complaint.
The Carters agreed to settle their anticompetition and civil-rights claims against Tyco about the same time as the sale agreement.
Justice Department representatives didn't immediately respond to an e-mail seeking comment on the lawsuit.
The case is Carter Brothers Inc. v. Tyco Integrated Security LLC, 652518/2014, New York State Supreme Court, New York County (Manhattan).