Missouri Governor's Political Ear Is Challenged by Unrest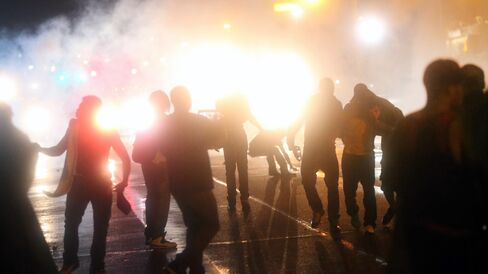 Missouri Governor Jay Nixon is known as a politician with an ear to the ground, a nimble Democratic centrist who's navigated his way through an increasingly Republican state during almost 30 years in elective office.
The sensitivity of Nixon's ear has been challenged since the Aug. 9 shooting death of an unarmed black teenager by a police officer, an event that's provoked more than a week of violence, a federal investigation and a declaration of emergency in the St. Louis suburb of Ferguson. The 58-year-old governor arrived on the scene five days after the fatal shooting of Michael Brown, forgoing a scheduled appearance at the State Fair.
"You know these problems have to be solved at the local level," Nixon said yesterday on CBS's "Face the Nation," when asked about his response.
"But when I saw the military vehicles rolling up, when I saw guns pointed at kids, when I saw the reaction that was getting, I knew there needed to be a change," he said in one of several network TV interviews.
Nixon declared a state of emergency and a midnight-to-5 a.m. curfew Aug. 16, during a boisterous news conference in which he was repeatedly interrupted and at times struggled to be heard.
'Not Normal'
"This is not normal, and our hope is that we can return back to a peaceful normal," Nixon said, hours before another night of protests, tear gas and gunfire erupted.
"This is a test. The eyes of the world are watching," Nixon said, in a nod to the duration of the unrest and the international attention drawn to this mostly black suburb of 21,000.
It's also a challenge for Nixon, who's displayed ambition and political skill since first winning election to the state senate in 1986, the year he turned 30. He's the son of politicians -- his father was mayor and his mother school board president in the south St. Louis suburb of De Soto.
He embarked on his political career after receiving his undergraduate and law degrees from the University of Missouri and returning to De Soto to practice law.
Nixon has an informal manner and a mane of grayish white hair. His website offers a request-for-appearance sign-in for residents wanting him to show up at an event.
'Politically Astute'
"He's a populist -- he always has his ear to the pavement and always seems to come out on the side that's popular, what's consistent with public opinion," said Kenneth Warren, a St. Louis University political scientist who has followed Nixon's career since the 1980s.
"He's very, very politically astute," Warren added, while acknowledging the governor should have been in Ferguson more quickly.
While Nixon's two runs for the U.S. Senate, in 1988 and 1998, ended in defeat, he moved on to serve 16 years as Missouri attorney general before being elected governor in 2008, with 58 percent of the vote.
As attorney general, he oversaw the court settlement that ended school desegregation programs in St. Louis and Kansas City. As governor, Nixon has vetoed some abortion restrictions while allowing others to go into law. He vetoed income-tax cuts this year, only to see them overridden by the Republican-controlled legislature.
Outpolling Obama
Even with the rising Republican tide in Missouri -- the party holds veto-proof majorities in the legislature and six of eight seats in the U.S. House of Representatives -- Nixon remains popular. He won re-election in 2012 with 55 percent of the vote and collected 270,000 more votes than Democratic President Barack Obama, who lost the state by 10 percentage points to Mitt Romney. Nixon outdrew Romney by 12,000.
"He's never been that popular with Democratic insiders and that's because he's played the middle," Warren said.
The path to peace in Ferguson is more difficult to discern. About 40 Federal Bureau of Investigation agents came to the city to interview witnesses of Brown's shooting, according to Capt. Ron Johnson of the Missouri State Highway Patrol. He said anyone with information about the shooting should cooperate with investigators.
Residents have criticized the handling of the investigation by local officials, especially the decision by Ferguson police to release documents that describe Brown as a suspect in a robbery that occurred shortly before his death.
Nixon himself said on CBS that the release of a video from a convenience store he entered before the fatal shooting "had an incendiary effect."
"These are deep wounds, and when you scratch them again, they hurt, whether it's in Ferguson, Missouri, or other parts of the country," he said on CNN's "State of the Union."
"Let's not kid ourselves -- this was a horrific shooting. We're not to justice yet, and there will be some moments of energy and angst over the coming days and weeks," Nixon said.