Germany Courts Bottom of Class to Fix Looming Labor Need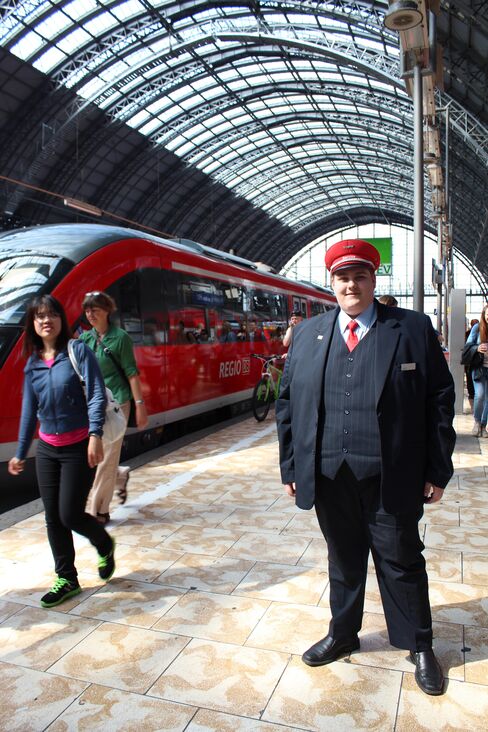 A looming labor shortage is prompting German companies to seek new recruits in an unlikely place -- the bottom of the class.
Kevin Reber, 22, rejected for vocational training because of poor math grades, is one of 250 young people enrolled in a one-year course by chemical maker BASF SE that teaches team work, conflict resolution and repeats failed school subjects. Seventeen-year-old Fabian Scholz, on a similar program at Deutsche Bahn AG, is learning to correct the bad attendance that spoiled his chances of advancing.
"We don't try to recruit the best but those that fit best to the demands of the job," BASF vocational training head Richard Hartmann said in an interview at the Ludwigshafen base of the world's biggest chemical maker. "Someone who got a great score and trains as a factory mechanic probably won't be content to stay. We need workers that do a skilled manual job over the years."
German companies are giving job seekers like Reber and Scholz a second chance as a shrinking birth rate and aging population put its 1 trillion-euro ($1.3 trillion) export economy at risk. The country, whose unemployment rate is already at the lowest in two decades, may lose a net 2 million working-age people by 2025, according to a May report by the Institute of Job Market and Occupational Research, or IAB.
Falling Birthrate
Germany's birth rate has dropped to half of its peak 50 years ago. With 8.4 births per 1,000 people, the country has Europe's second-lowest rate after Monaco, according to a Central Intelligence Agency estimate. It also has the European Union's oldest population with a median age of 45, a Federal Institute for Population Research report in November showed.
The small and medium-sized firms known as the Mittelstand, which form the backbone of the economy, are experiencing the squeeze more than bigger and better-known companies, whose size and name often make them more attractive employers.
German businesses spend about 23 billion euros a year on vocational training, according to estimates by German industry and trade associations.
Difficulties in securing leadership talent as well as skilled labor now top the list of concerns for SMEs, according to a July study by the Institute for Mittelstand Research in Bonn. A trend to encourage more schoolgoers to study at university is exacerbating the shortage of manual labor.
The deficit is a reversal of the labor market from 10 years ago, said Ulrike Stodt, head of professional development at Deutsche Bahn. When the railway company set up its program in 2004, there were too many applicants and not enough trainee slots, she said. Now the opposite is true.
Snapped Up
"Youths that didn't get a vocational training position five to six years ago are now being snapped up," Stodt said in an interview. "You have a much better chance with significantly worse grades compared with 10 years ago."
Similar programs have sprung up at other big German companies. Deutsche Telekom AG has been running one since 2009 and Porsche AG started a course two years ago.
"Companies will have to better exploit workers' potential," said Andreas Scheuerle, an economist at Dekabank in Frankfurt. "They need to have better training and qualify more people that can fulfill the needs of the company."
The demographic shift could cost Germany 0.2 percentage point of gross domestic product growth a year until 2050, according to a study by Prognos AG, a Basel, Switzerland-based research institute.
Hands-On Experience
Vocational training has traditionally been one of the country's strengths, prompting the European Commission to call for similar systems to be introduced across the continent. The training, which has its origins in the Middle Ages when guilds developed programs to teach their craft, offers hands-on experience directly at the companies. Classroom lessons take place only one or two days a week.
Spain, Greece, Portugal, Italy, Slovakia and Latvia are considering adapting their vocational training programs to the German model, according to a 2013 study commissioned by the Bertelsmann Foundation.
Most of the participants in BASF's course won't end up working for the chemical maker but will instead find employment with suppliers, customers, or other companies in the Rhine region, Hartmann said. BASF sees benefits in helping smaller local firms find trainees.
BASF, which can still attract enough candidates to fill its own vacancies, has boosted regular trainee numbers to 750. The 250 participants in its special preparation program come on top.
Bear Fruit
Reber's practical work takes place at textile-maker Planex, a business partner of BASF, less than 10 kilometers (6.2 miles) away from the chemical maker's main Ludwigshafen site.
"When someone has attended school for eight to 10 years and it didn't really bear any fruit, then it's time to change the method," Hartmann said. "Some students are reliable and hardworking but have cognitive weaknesses. Others are clever but don't apply it to the job. There it's more about motivation, reliability, ability to concentrate, sticking with something."
BASF has a social worker on hand to advise on topics from healthy eating to mobile-phone contracts and broken hearts. The program includes martial arts-based attitude training, rap music and a session with Olympic weightlifter Matthias Steiner. Steiner, an Austrian with German citizenship, has gained a following out of admiration for how he publicly dealt with the loss of his wife after winning gold in the 2008 summer Games.
Success rates of the preparation programs are about 70 percent to 75 percent as reflected by the students' acceptance into regular vocational training. Some even end up best in the class, said Husam Azrak, a Deutsche Telekom spokesman.
For Reber and Scholz, the benefits are evident. Reber has been accepted as a regular trainee at BASF's partner company Planex as of September and Scholz's missed days are a thing of the past.
"For me, it's changed things completely," Scholz said. "Now I can overcome the trivialities that stopped me going to school. I have great colleagues. Work is fun."