Chinese Rate Cuts Portend Stock-Market Losses: Chart of the Day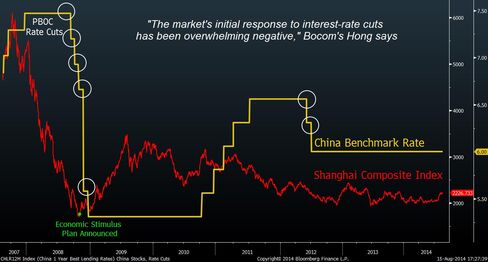 Chinese investors counting on interest-rate cuts to extend the nation's stock-market rally may be setting themselves up for disappointment.
The CHART OF THE DAY shows the Shanghai Composite Index's performance after a series of rate reductions in 2008 and 2012. The gauge fell 8.7 percent from Sept. 15 to Nov. 26, 2008, even as the People's Bank of China lowered borrowing costs four times amid the global financial crisis. The index slid 4 percent from June 7 to July 5, 2012, with the central bank cutting rates on both days, and a further 5.2 percent in the next three months.
China's benchmark stock index climbed to an eight-month high last week as data showing the weakest credit growth since 2008 and an unexpected slowdown in industrial output spurred speculation the central bank will reduce borrowing costs. While lower interest rates provide some support to the economy, the monetary authority tends to act only after the slowdown becomes deep enough to drag down share prices, said Hao Hong, a Hong Kong-based strategist at Bocom International Holdings Co.
"The market's initial response to interest-rate cuts has been overwhelmingly negative," Hong said. "The market in the past tended to consider a rate cut a tacit admission to an economic ailment that required intervention."
China Merchants Bank Co. predicts policy makers may lower borrowing costs as early as next month, while Barclays Plc is forecasting two cuts by year-end.
Unlike 2008 and 2012, potential cuts in borrowing costs would come at a time when Chinese stocks are in an uptrend. The Shanghai index has gained 12 percent since mid-March on foreign fund inflows before a planned exchange link between Hong Kong and Shanghai, scheduled to start around October.