'Mutant Ninja Turtles' Keeps Grip on Movie Box Office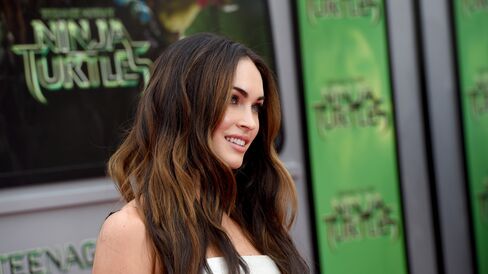 "Teenage Mutant Ninja Turtles," the Paramount Pictures revival of comic book characters that first hit theaters in the 1990s, led movie-ticket sales for a second straight weekend.
The film, featuring Megan Fox and produced by Michael Bay, brought in $28.5 million in U.S. and Canadian cinemas for Paramount, Viacom Inc.'s movie division, Rentrak Corp. said today in an e-mailed statement. Walt Disney Co.'s "Guardians of the Galaxy" held on to second place again, with $25.1 million. Both films outdrew three new releases, including "The Expendables 3," starring Sylvester Stallone and Mel Gibson.
The two pictures, among the last big releases of the summer in North America, provided a revenue boost in an otherwise lackluster season for studios and cinemas. Summer ticket sales were down 17 percent this year from a year earlier as of two weeks ago, according to Rentrak. BoxOffice.com had forecast $26 million in weekend sales for "Turtles" and $24 million for "Guardians."
"'Ninja Turtles' is a movie that no one thought would open as big as it did, and for it to be No. 1 two weekends in a row is even more surprising," said Paul Dergarabedian, senior media analyst at Rentrak. "It shows you how important just two movies or even one movie can be to the health of the box office marketplace."
Among new releases, "The Expendables 3" brought in $15.9 million for Lions Gate Entertainment Corp., compared with the $22 million forecast of BoxOffice.com. Its 2012 predecessor opened with $28.6 million and went on to collect $305 million worldwide, according to Box Office Mojo.
Critics' Reviews
In the new version, Stallone returns as Barney Ross and is rejoined by Jason Statham, as Lee Christmas, and the rest of the team of mercenaries. They face down Conrad Stonebanks, played by Gibson, a founder of "The Expendables" and an arms trader. Stonebanks wants to wipe out the unit and faces a fight with Ross and younger additions to the crew.
Ticket sales may have been hurt by the distribution of a copy of the film that Lions Gate said was stolen and uploaded to the Internet in late July. The company won a court order earlier this month blocking websites from disseminating the file after more than 2 million people viewed the movie online.
The film registered a 34 percent positive rating from critics as of Aug. 15, according to Rottentomatoes.com, which distills reviews into a single number.
Buddy Cops
"'Expendables 3'" has tried to make a virtue of necessity and construct a film about younger types muscling their sclerotic compatriots out of a job,'' Kenneth Turan wrote in the Los Angeles Times. "That may sound interesting, but it's really not."
"Let's Be Cops," the 21st Century Fox Inc. comedy featuring Jake Johnson and Damon Wayans Jr., opened with sales of $17.8 million, missing the $21 million projection of BoxOffice.com.
Johnson and Wayans star as two friends who dress up as police officers for a costume party only to get embroiled in a real-life mobster story.
The film fared poorly with critics, with 11 percent positive reviews, according to Rottentomatoes.
The third new release, Weinstein Co.'s "The Giver," features Meryl Streep and Jeff Bridges. The film produced sales of $12.3 million, compared with a forecast of $12 million.
Based on Lois Lowry's book, "The Giver" tells the story of a utopian world where a 12-year-old boy is picked as the "Receiver of Memories." He enters into training with an old man, learns about the world's real miseries and is confronted with the knowledge that his community is fake.
Streep, Bridges
The film, which features Bridges as The Giver, Streep as the Chief Elder and Brenton Thwaites as Jonas, failed to enchant critics, garnering 28 percent positive reviews, according to Rottentomatoes.com.
After two weekends of release, "Teenage Mutant Ninja Turtles" has grossed $117.8 million domestically after surpassing expectations on its debut.
While the film disappointed critics, it has drawn fans of Fox, who plays the fearless reporter April O'Neil, and her co-star Will Arnett, as cameraman Vernon Fenwick.
In the reboot, they work with the turtles to save New York from the evil Shredder and his Foot Clan. Raphael is played by Alan Ritchson. It's directed by Jonathan Liebesman, whose credits include 2012's "Wrath of the Titans."
"Guardians of the Galaxy," from Disney's Marvel cast of characters, has taken in $222.7 million domestically in three weeks of release, according to Rentrak.
Weekend sales for the top 10 films rose 10 percent to $125 million from a year earlier. Sales for the year to date have fallen 5.1 percent to $6.88 billion.
The following table has U.S. movie box-office figures provided by studios to Rentrak. The amounts are based on gross ticket sales for Aug. 15 to Aug. 17.
                     Rev.    Pct.             Avg./   Total
Movie               (mln)    Chg. Theaters  Theater   (mln)  Wks
================================================================
 1 Ninja Turtles    $28.5    -57    3,980   $7,167   $117.8    2
 2 Guardians         25.1    -40    3,697    6,793    222.7    3
 3 Let's Be Cops     17.8     --    3,094    5,758     26.2    1
 4 Expendables 3     15.9     --    3,221    4,930     15.9    1
 5 Giver, The        12.3     --    3,003    4,098     12.3    1
 6 Into The Storm     7.9    -55    3,434    2,298     31.5    2
 7 100-Foot Journey   7.2    -35    2,043    3,513     23.7    2
 8 Lucy               5.5    -42    2,520    2,180    107.7    4
 9 Step Up All In     2.7    -59    2,072    1,283     11.8    2
10 Hercules           2.1    -63    1,475    1,443     68.2    4



Top 10 Films Grosses



   This Week      Year Ago     Pct.
     (mln)         (mln)       Chg.
===================================
    $125.0        $113.6      +10



Year-to-date Revenue



     2014          2013
      YTD           YTD        Pct.
     (mln)         (mln)       Chg.
===================================
    $6,875        $7,246      -5.1

Source: Rentrak Corp.
Before it's here, it's on the Bloomberg Terminal.
LEARN MORE