Hamas Rejects Egyptian Proposal for Long-Term Gaza Truce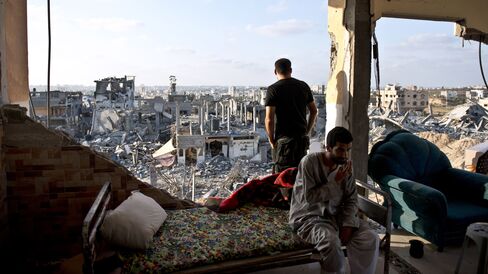 The Gaza Strip's Hamas rulers rejected an Egyptian proposal for a long-term truce with Israel, as both sides prepared to resume talks in Cairo amid a cease-fire set to expire tomorrow.
Egyptian newspaper al-Shorouk reported on an 11-point proposal that included the opening of border crossings, coordination with the West Bank-based Palestinian Authority to rebuild Gaza, the extension of the enclave's fishing zone, and a Palestinian commitment to halt tunnel building into Israel.
"The Egyptian proposals for a permanent cease-fire agreement with Israel are rejected," Hamas official Izzat al-Resheq said yesterday in a post on his personal Facebook page. "What was presented to the Palestinian side, up until the last moment before we left Cairo, was not accepted and never will be" said al-Resheq, a Palestinian negotiating team member.
Hamas has demanded that Israel allow the opening of a seaport and airfield in Gaza. Israeli officials have said those are issues to be decided only in a final peace agreement with the Palestinians, and aren't up for discussion at this time.
The truce that started on Aug. 14 offered respite from a conflict that killed more than 1,900 Palestinians, including hundreds of civilians, and 67 people on the Israeli side.
The temporary cease-fire is meant to give Israelis, Palestinians and their Egyptian mediators time to work out a more enduring accord resolving disputes that have fueled three major conflicts since 2008.
Talks Resuming
Palestinian President Mahmoud Abbas told reporters in Ramallah yesterday that negotiations will resume today in Cairo. Abbas's Fatah movement, which controls parts of the West Bank, formed a Palestinian unity government with rival faction Hamas in June.
Israeli Communications Minister Gilad Erdan said today on Israel Radio that the Egyptian proposal has some problematic sections and his government hasn't decided whether to accept it. The Israeli cabinet is scheduled to meet today in Jerusalem.
Israel withdrew ground troops from Gaza on Aug. 5 following a four-week offensive that it said was designed to end years of rocket fire and destroy tunnels militants built to infiltrate Israel. It estimates armed men account for 750 to 1,000 of the Palestinian dead and accuses Hamas of deliberately putting civilians in harm's way, in part by operating within built-up areas and in and around schools, hospitals and mosques.
Along with the U.S. and European Union, Israel considers Hamas a terrorist organization.
Before it's here, it's on the Bloomberg Terminal.
LEARN MORE