Obama Call to Nixon Preceded New Strategy on Ferguson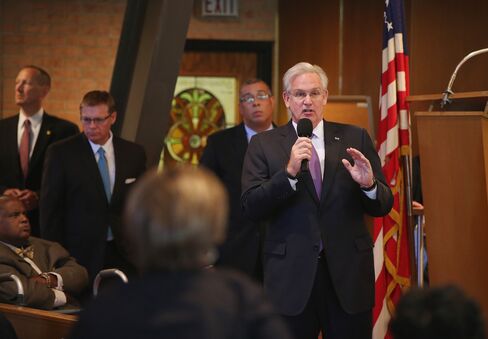 Aug. 16 (Bloomberg) -- After four nights of violence in a suburban St. Louis town, President Barack Obama got Missouri Governor Jay Nixon on the telephone.
Both men were going in front of news cameras in a short while, and Obama wanted to convey the seriousness of the worsening confrontations between the citizens of Ferguson and police units in tactical garb, which was being amplified by the pictures and videos broadcast across the country.
Nixon went first. From a church in Florissant, just north of Ferguson, Nixon promised a "different tone" in the law enforcement response to protests sparked by the fatal shooting of an unarmed black teenager by a white police officer in the town on Aug. 9.
Minutes later, Obama spoke in Edgartown, Massachusetts. He delivered a statement about the U.S. military involvement in Iraq, then gave a carefully calibrated response to the tension in Ferguson, his first words in public about the situation since the protests began.
"There are going to be different accounts of how this tragedy occurred. There are going to be differences in terms of what needs to happen going forward," Obama said. "But let's remember that we're all part of one American family."
The public appearances by the two Democrats were the culmination of rounds of phone calls among officials -- including U.S. Attorney General Eric Holder and adviser Valerie Jarrett -- in Washington, Missouri, and Martha's Vineyard, Massachusetts, where the president is vacationing. The calls were sparked by several nights of rioting and looting in Ferguson, where a peaceful protest turned violent on Aug. 10 after police announced that 18-year-old Michael Brown was unarmed when he was shot by police officer Darren Wilson.
Obama's Position
Obama "understood that by virtue of being the president of the United States who is also an African American and rightfully sensitive to the history implicated by such a shooting, his words could uniquely serve to help prevent a really sad situation from becoming even worse," said Chris Lehane, a political consultant who was a communications adviser in President Bill Clinton's administration.
The rising tensions in Ferguson ripped up the schedules for both the governor and the president. Nixon canceled an appearance at the Missouri State Fair about three hours to the west. The president, relaxing whenever possible, already was dealing with crises in Iraq and Ukraine.
Consulting Advisers
Obama decided to break into his golf plans after talking on Aug. 13 with Holder and Jarrett, one of his closest advisers and longest-serving confidantes, who are also vacationing on the island, according to a White House official, who asked for anonymity to discuss private conversations.
The three attended a party that night to celebrate the 80th birthday of Democratic denizen Ann Jordan.
The next day at 9:15 a.m., Holder had an hour-long conference call with top Justice Department officials, including Molly J. Moran, the acting assistant attorney general for the department's Civil Rights Division, according to a Justice official who asked for anonymity to discuss the timeline. Holder also spoke to Richard Callahan, the U.S. Attorney for Missouri's eastern district who is the former top local prosecutor in St. Louis County, and asked a series of questions about Ferguson and the history of tensions between residents and the local police.
Military Image
Holder told Callahan to convey his concerns about the use of military-style equipment, including armored trucks and heavily armed officers in camouflage gear, to St. Louis County authorities. He then drove to Obama's vacation home to update him on the latest developments, after a fourth night of clashes including the detention of two reporters by the local police.
After briefing the president, Holder spoke by phone with Missouri's two U.S. senators, Democrat Claire McCaskill and Republican Roy Blunt.
After talking with Holder, Obama called Nixon, who had just landed in the St. Louis area. The White House official characterized the conversation as cordial. Obama praised him for heading to the scene and told him to stay in touch with the White House through Holder and Jarrett, the official said.
At press conferences on Aug. 14 and yesterday, Nixon addressed questions about concerns that he had been missing in action as the situation escalated during the previous days. He defended himself, saying he had been monitoring the situation and working behind the scenes, including calling for a Justice Department investigation on Aug. 11.
First Response
The administration's initial response came on that day, when Holder said the Federal Bureau of Investigation would conduct its own investigation into the shooting alongside local authorities. Holder, who had been getting briefings on the situation since the morning of Aug. 10, called for a "fulsome review" of the circumstances.
The next day, the White House released a written statement from Obama extending his condolences to Brown's family and urging everyone in Ferguson and elsewhere "to remember this young man through reflection and understanding."
It wasn't enough.
Sporadic violence that erupted in Ferguson the night after the shooting continued to flare. Authorities responded by blocking demonstrators with armored vehicles and lines of camouflaged police toting rifles and tear gas grenades.
Nixon announced on Aug. 14 he was stripping local law enforcement of its job and giving those responsibilities to the Missouri State Highway Patrol. He said the streets of Ferguson "looked a little bit more like a war zone. And that's unacceptable."
Calming Influence
Justice Department officials said Holder talked yesterday to Ronald K. Replogle, the Superintendent of the Missouri State Highway Patrol, and Captain Ronald Johnson, who has become the public face of the police presence in Ferguson.
Johnson walked with demonstrators on Aug. 14, and his handling of the situation has been credited with calming the community.
Last night, a statement issued by Callahan and other Justice Department officials said that FBI agents "have already conducted several interviews of witnesses on the scene at the time of the shooting. Over the next several days, teams of FBI agents will be canvassing the neighborhood where the shooting took place to identify any individuals who may have information related to the shooting and have not yet come forward."
The statement asked for the public's "cooperation and patience."
To contact the reporters on this story: Angela Greiling Keane in Edgartown, Massachusetts, at
agreilingkea@bloomberg.net; Toluse Olorunnipa in Ferguson, Missouri, at tolorunnipa@bloomberg.net
To contact the editors responsible for this story: Steven Komarow at skomarow1@bloomberg.net Joe Sobczyk, Don Frederick