Kings Sign 7-Foot-5 Bhullar, First NBA Player of Indian Descent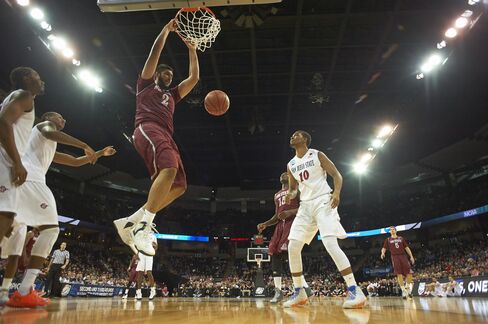 The Sacramento Kings already had the first Indian-born owner in the National Basketball Association. Now they have the league's first player of Indian descent.
The Kings, purchased last year by Tibco Software Inc. founder Vivek Ranadive, a native of Mumbai, signed 7-foot-5, 360-pound center Sim Bhullar to a contract after he played with their summer league team in Las Vegas.
Bhullar, 21, was born and raised in Canada after his parents moved from Punjab. He averaged 10.2 points, 7.2 rebounds and 2.9 blocks a game over two seasons at New Mexico State, where he helped the Aggies reach the National Collegiate Athletic Association tournament in 2013 and 2014. Bhullar wasn't among the 60 players selected in this year's NBA draft.
Ranadive, who purchased the Kings from the Maloof family for $534 million, has said India is the NBA's "next great frontier" and adding Bhullar underscores the growth of the sport there.
"He represents one of many that will emerge from that region as the game continues to garner more attention and generate ever-increasing passion among a new generation of Indian fans," Ranadive said in a statement.
Ranadive said basketball is the fastest-growing sport in his home country. The Kings, who have eight straight losing campaigns, last season televised more than 20 live games in India, began a website in Hindi, sent players and dancers to Mumbai and signed the team's first India-based sponsor.