Russian Stocks' Oil Link Fades on Ukraine Outlook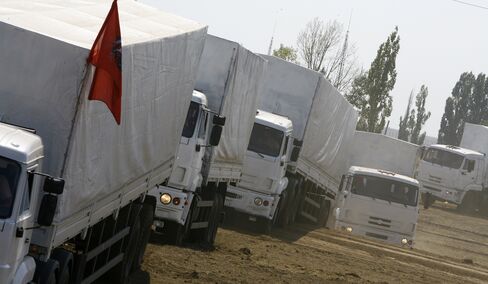 Russian equities are breaking their correlation with oil as a rally spurred by easing tension in Ukraine outweighs slumping crude prices.
The dollar-denominated RTS stock index rose 0.9 percent in Moscow yesterday, adding to its biggest weekly gain in three months, even as oil sank to the lowest since January. That pushed their 50-day correlation to minus 0.22, near the lowest level since March, when President Vladimir Putin annexed the Black Sea Crimea peninsula from Ukraine. A reading of 1 implies two securities are trading in lockstep, while minus 1 signals the opposite.
Russian stocks rallied as Putin, speaking in Crimea, pledged to do all he can to stop the conflict. Oil is Russia's top export and along with natural gas contributes about half its budget revenue. The RTS index had a negative correlation coefficient of as much as 0.23 in March amid the standoff with Ukraine.
"The market is totally driven by geopolitical factors, and specifically the Ukraine conflict," Sergei Pigarev, an analyst at Rye, Man & Gor Securities in Moscow, said by phone yesterday. "Traders react to any bit of news, any sign that the conflict easing, by buying as valuations are low and therefore very attractive."
This week's rally pared the RTS's decline in 2014 to 15 percent, a selloff that's been driven by concern international sanctions intended to punish Putin for not moving to quell the rebellion by pro-Russian separatists in eastern Ukraine will squelch growth and hurt corporate profits. The Micex index has fallen 6.4 percent this year in Moscow, pushing the average price of stocks on the gauge to 5 times projected 12-month earnings, making it the cheapest among 21 emerging-market benchmarks tracked by Bloomberg.
Oil Drops
The Bloomberg Russia-US Equity Index gained 0.4 percent to 85.23 yesterday. Oil fell amid signs of ample global supply as the euro bloc's economic recovery stalls. West Texas Intermediate crude futures dropped 2.1 percent to $95.58. Brent futures declined 2.2 percent to $102.01, the lowest in more than a year.
"We will do all we can so this conflict comes to an end as soon as possible, and the bloodshed in Ukraine comes to an end," Putin, who is locked in the worst standoff with the U.S. and its allies since the Cold War, said in Crimea yesterday. "We must consolidate and mobilize ourselves, but not for wars or any other conflicts, not to face off against somebody, but for hard work in the name of Russia and for Russia."
Aid Convoy
The U.S. and the European Union have imposed sanctions against Russian individuals as well as measures targeting thee country's banking, defense and oil industries.
Ukraine sent aid yesterday to the country's war-torn east as hundreds of Russian trucks carrying what the government in Moscow says is emergency supplies neared the border. Officials in Kiev, who have warned that the convoy may be a guise to bring military gear into the country, said they would allow it entry if officials can inspect the vehicles and the Red Cross handles the distribution.
"Investors bet on a peaceful resolution to the Ukraine crisis, helped no doubt in no small part by Russian equity markets that traded on the cheap," analysts including chief equity strategist Kirill Chuyko at BCS Financial Group wrote in a research note yesterday.
The Market Vectors Russia ETF, the largest dedicated Russian exchange-traded fund, gained 0.7 percent to $24.62, the highest since July 25. RTS-index futures expiring next month dropped 0.3 percent to 122,500 in U.S. hours. The RTS Volatility Index, which measures expected swings in the stock futures, increased 1.3 percent to 33.06 points.
United Co. Rusal, a Moscow-based aluminum producer, dropped 0.5 percent to HK$4.04 in Hong Kong trading as of 10:07 a.m. local time.
"Russian equities' correlation with oil will resume as soon as the geopolitical concerns take a back seat and no longer drive the market," Ilya Balakirev, a senior analyst at UFS Finance Investment Co. in Moscow, said by phone yesterday. "As long as there is no escalation, there will be no new sanctions and that is already a positive development and a chance for the market to gain."
Before it's here, it's on the Bloomberg Terminal.
LEARN MORE