Erdogan Defied as Bank Funding Costs Signal Cuts Ending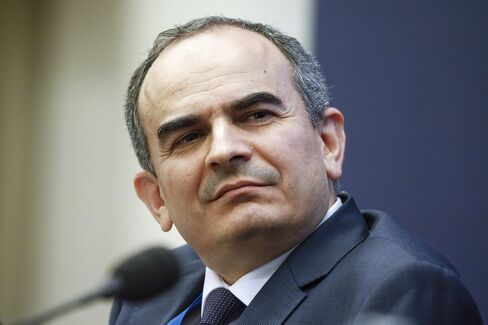 Aug. 15 (Bloomberg) -- Turkish Central Bank Governor Erdem Basci is pushing back against government demands to keep cutting borrowing costs, raising average funding rates for banks.
Should this month's increase hold -- it was four basis points through yesterday -- the jump would represent the first time Basci has lifted the average charge since March, according to data compiled by Bloomberg. Policy makers may be reacting to the lira's 1 percent drop this month and a 76 basis-point surge in two-year note yields, the most worldwide.
"Size-wise, four basis points is nothing, but the message is important," Ozgur Altug, chief economist at brokerage BGC Partners, said in an interview in Istanbul yesterday. "The central bank is giving a clear message to the market that instead of easing, monetary-policy tightening might be on the agenda soon."
Prime Minister Recep Tayyip Erdogan, who assumes the presidency this month, has kept up pressure on Basci to lower rates, saying further reductions are necessary to reinvigorate growth. Economy Minister Nihat Zeybekci blamed rate levels for inflation running more than 4 percentage points above the central bank's target, saying on Aug. 13 this was prompting producers to pass on higher costs of borrowing to consumers.
Benchmark Rate
Basci more than doubled his benchmark one-week repurchase rate to 10 percent in January after the currency tumbled to a record. He has lowered the rate at his last three meetings by a cumulative 175 basis points, and Erdogan wants the central bank to keep reducing it to 4.50 percent, where it stood at the start of the year. Policy makers are next scheduled to meet Aug. 27.
"Despite ongoing pressures for further rate cuts by the government, the bank should sit on its hands" at the next meeting, Sertan Kargin, chief economist at Eczacibasi Securities in Istanbul, said by e-mail yesterday. "Ratings agencies are really concerned" about inflationary pressures and more cuts could endanger Turkey's credit outlook, he said.
Fitch Ratings said on Aug. 11, the day after Erdogan won the presidential election, that government pressure on the central bank to reduce rates could undermine its "tenuous credibility." Moody's Investors Service said today that risks are "skewed to the downside" as infighting in the ruling party will "extend the climate of political tension and uncertainty that has prevailed since mid-2013."
Basci may opt for a "symbolic" 25 basis-point reduction this month, Kargin said.
'Stealth Tightening'
While lowering the main rate, policy makers have raised the average cost of funding for lenders to 8.29 percent as of yesterday, according to data compiled by Bloomberg. The rate is calculated using the total amount of funding offered at various levels. By reducing the amount available at its benchmark one-week repo rate of 8.25 percent, it can force lenders to pay more to meet borrowing needs, including at the 12 percent overnight lending rate.
The central bank is currently engaging in "stealth tightening," Cagdas Dogan, a banking analyst at BGC, said by e-mail from Istanbul yesterday. "I interpret this as a signal to the markets that the bank is unlikely to deliver any more policy rate cuts."
The central bank's press office declined to comment when reached by phone and e-mail yesterday.
Weakening economic data show Turkey's $820 billion economy is slowing and may allow Basci to reverse the slight tightening under way now, "especially if risk-on continues in emerging markets," according to Erkin Isik, a fixed-income strategist at Turk Ekonomi Bankasi AS in Istanbul.
Yields Fall
The lira fell 0.6 percent to 2.1638 per dollar at 4:05 p.m. in Istanbul today, extending this month's decline to 1 percent, the most among all emerging markets. The yield on Turkey's two-year sovereign notes rose 6 basis points to 9.31 percent.
The average rate banks charge each other for borrowing in the overnight market rose to 8.84 percent yesterday, compared with 8.29 percent a week earlier.
"There is some tightening in liquidity conditions, but it's not aggressive," TEB's Isik said by e-mail yesterday. "Banks are acting cautiously with worries that the central bank may tighten liquidity again."
To contact the reporters on this story: Benjamin Harvey in Istanbul at bharvey11@bloomberg.net; Constantine Courcoulas in Istanbul at ccourcoulas1@bloomberg.net
To contact the editors responsible for this story: Samuel Potter at spotter33@bloomberg.net; Daniel Tilles at dtilles@bloomberg.net Stephen Kirkland, Daliah Merzaban