Ebola Threatens West Africa GDP as Companies Slow Production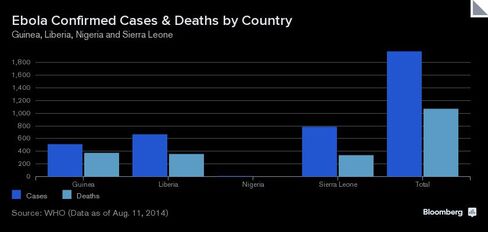 The world's worst-ever outbreak of Ebola will inflict economic damage on the West African countries of Guinea, Liberia and Sierra Leone as companies from Sime Darby Bhd to ArcelorMittal scale back operations.
Commercial and transport disruptions that will probably last for at least the next month, along with increased health expenditure, may put pressure on budgets, jeopardizing the nations' economic growth, Matt Robinson, a senior credit officer at Moody's Investors Service, said in a report today.
Sime Darby, the world's largest listed palm oil producer, said it is slowing output in Liberia. ArcelorMittal, the world's largest steel producer, said the spread of the virus has delayed expansion plans at its Liberia plant. Sifca Group, the Ivory Coast-based agribusiness, said it halted rubber exports from Liberia. MTN Group Ltd., the largest wireless carrier in sub-Saharan Africa, said five expatriate workers left Liberia as a precautionary measure.
"Ebola threatens to have significant economic and fiscal ramifications for a number of sovereigns in the region," Robinson said. "The outbreak risks having a direct financial effect on government budgets via increased health expenditures that could be significant."
Flight Disruptions
The outbreak that has killed more than 1,000 people, the worst since the virus was first identified in 1976, has spread to Nigeria, Africa's most populous nation of about 170 million. There is no cure for the disease, which is normally treated by keeping patients hydrated, replacing lost blood and using antibiotics to fight opportunistic infections.
The spread of the disease may have "an indirect effect arising from an Ebola-induced economic slowdown on government revenue generation in a region where budgets are already hindered by low tax collection," Robinson said.
The economies of Sierra Leone, Guinea and Liberia may lose 1 percentage point of growth because of the disease, Aliko Dangote, Africa's richest man, said in a Bloomberg TV interview last week. Reduced agricultural production and trade may shave off as much as 2 percentage points of growth in those three countries, New York-based Teneo Intelligence said yesterday.
Sierra Leone's Ministry of Finance said yesterday it will probably miss its growth target of 14 percent this year and inflation is already quickening as trade slows. Guinea is set to expand about 4.5 percent and Liberia about 7 percent, according to the International Monetary Fund.
Low Risk
While the World Health Organization says the risk of Ebola spreading through air travel is low, international carriers including British Airways and Emirates have suspended flights to the affected area. Regional carriers including Asky Airlines, which flew a Liberian to Nigeria that died of the disease, have also canceled routes.
The MTN workers were moved as flight options in case of the need to evacuate workers later on have been reduced, the Johannesburg-based company said in an e-mailed response to questions. Rio Tinto Group, the second-largest mining company in the world, has restricted staff movement to essential travel only in Guinea.
Exxon Mobil Corp. said it is monitoring the situation and hasn't moved any of its Liberia employees. Caterpiller Inc., the biggest maker of construction equipment, said it removed fewer than 10 of its foreign workers from Liberia. Naspers Ltd., Africa's largest media company, suspended employee travel to affected West African countries, the Cape Town-based company said.
Four people have died so far in Nigeria, Africa's top oil producer and largest economy. Should it spread further, "the consequences for the west African oil and gas industry would be considerable," Moody's Robinson said.
Ghana, the second-largest economy in West Africa, urged its citizens to avoid traveling to Sierra Leone, Liberia and Guinea and canceled all international conferences it plans to host in the next three months, Foreign Minister Hannah Tetteh told reporters today in Accra, the capital.
Before it's here, it's on the Bloomberg Terminal.
LEARN MORE