Caesars Cuts Deal With Trustee to Facilitate Negotiations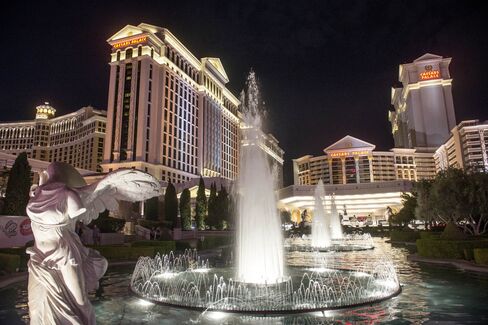 Caesars Entertainment Corp. reached a deal with the trustee of first-lien bonds that would facilitate negotiations with holders of those notes because it provides incentive to delay a potential notice of default.
The casino operator announced a waiver agreement with UMB Financial Corp., which was named the trustee of almost $5 billion of first-lien bonds on July 30, that's aimed at keeping those noteholders engaged in discussions, according to a regulatory filing today.
The agreement may discourage bondholders from alleging a default until Sept. 19 because any notice filed on that date or later would only give the Las Vegas-based company 10 days to comply with its credit pact, according to the filing. Ordinarily, Caesars would have 60 days to address a violation, so the deal would give it less time before creditors can expedite claims.
A notice served between now and Sept. 19 would be treated as though it were dated Aug. 12, according to the filing. One filed more than 120 days after then, the date of the agreement, won't have the benefit of the deal.
"The first-lien creditors are being allowed to not give up anything just to stay at the table," Noel Hebert, an analyst at Bloomberg Intelligence, said in a telephone interview. "This is a move by the company to keep people engaged."
Replaced Trustee
Caesars, taken private by Apollo Global Management LLC and TPG Capital in a $30.7 billion leveraged buyout in 2008, is battling with its creditors as it seeks to rein in interest expense that exceeds its cash flow. The casino company, which has more than $20 billion in debt, replaced U.S. Bancorp as the trustee overseeing eight of its bond issues.
UMB is a trustee for the company's $2.1 billion of 11.25 percent notes due June 2017, $1.25 billion of 8.5 percent notes due 2020 and $1.5 billion of 9 percent bonds maturing in the same year. A bond trustee enforces the contracts that govern fixed-income securities and makes sure interest payments are made on time.
"We are continuing to work with responsible creditors to improve the company's financial situation and future prospects," said Stephen Cohen, a spokesman for Caesars at Teneo Holdings in New York.
Caesars already received a notice from its second-lien bondholders in June and the trustee for those creditors, Wilmington Savings Fund Society, sued the company in Delaware Chancery court in Wilmington earlier this month.
On Aug. 12, the company also cut a deal with some of its unsecured bondholders who hold bonds issued by its largest operating unit. Those creditors would be repaid a portion of their holdings at close to par in exchange for securing their approval to take part in a restructuring of those notes within six months. The move also included a cancellation of some of those notes held by other entities of Caesars, cutting its total indebtedness by $548.4 million.