Watch Where You Spit! How India Labor Laws Strangle Growth: Jobs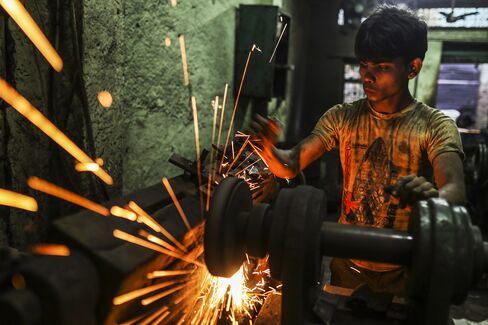 As India's export growth slowed in 2012, Aditya Gupta's stocks of beds, sofas and tables began to pile up while many of his staff were idle. He needed to trim two-thirds of the workforce at his company, Sharda Group, or risk going under.
India's labor laws, some of which date back almost a century, made it difficult for him to fire anyone without agreement between authorities, management and workers that would have taken months of talks, without any guarantee of success. So he offered a voluntary severance package. By the time he'd persuaded enough employees to leave 18 months later, mounting losses had forced him to shut one of his two factories on the outskirts of Delhi.
"No business wants to fire workers but businesses are dynamic and need to be flexible when cycles are not favorable," Gupta said by phone. "Labor is 25 percent of my input and it's like buying raw material every month no matter whether you have an order or don't. It genuinely suffocates the business."
Tackling India's labor practices is central to new Prime Minister Narendra Modi's efforts to revive economic growth and bolster tax revenue. Employment laws for companies that have more than about 100 staff are stricter than all but two of the 34 countries in the Organization for Economic Cooperation and Development, resulting in a disorganized economy composed mostly of small businesses where employees have few rights.
"India hasn't realized its full growth potential and the labor laws are among the biggest hindrances," said Hemal Shah, a researcher at the American Enterprise Institute in Washington, who's studied labor issues. "There's so much overlap that, as it's often said, a company in India can't comply with 100 labor laws without breaking 20."
Firing, Spitting
India's 44 federal labor acts -- the oldest of which dates back to 1923 when the British ruled the subcontinent -- and more than 150 state laws govern how workers can be hired and fired, their safety and compensation. There are laws on how many times a factory must be painted, how the toilets must be tiled and the correct place for an employee to spit.
The government introduced bills this month designed to ease some of those rules, including improving workers' safety, allowing more overtime, increasing penalties for flouting regulations and permitting more women to work night shifts. Members of India's lower house of parliament today are reviewing an Apprentices Bill, aimed at widening the scope of training for those joining the workforce.
Revamping labor laws and encouraging urbanization could add as many as 110 million jobs over the next 10 years, Goldman Sachs Group Inc. estimates. That's enough to absorb the 100 million Indians that the United Nations says will enter the workforce in the coming decade, a demographic that Goldman estimates could contribute as much as 3 percentage points to annual economic growth from 1.7 percent now.
No Protection
About 94 percent of Indian workers are in what the government describes as informal sectors, including agriculture, construction, or home-based activities like pickling and tailoring. Most of the country's labor rules don't apply to these small businesses, leaving millions with little or no protection.
"Too many small firms stay small and unproductive," the government said in its Economic Survey 2012-13. "Too many large profitable firms prefer relying on temporary contract labor and machines than on training workers for longer-term jobs."
Only 11 percent of manufacturing companies in India employ more than 200 people, compared with 52 percent in China, according to AEI's Shah. China created 120 million non-farm jobs over the past decade, about twice as many as India, according to a 2014 report by New York-based McKinsey & Co.
Staying Small
Workers in large companies globally are 60 percent more productive than those in smaller firms and earn 50 percent more in wages, World Bank data show.
Change won't come easily. India's employment laws are part of the legacy of its founding fathers including Mahatma Gandhi, who rallied textile workers in Ahmedabad from the shade of a babul tree during a strike in 1918.
"Any attempt to amend national labor legislation would be politically difficult," said Anjalika Bardalai, an analyst in London at Eurasia Group. "So the federal government will probably encourage state governments to push reforms."
India's Industrial Disputes Act of 1947 requires companies employing more than 100 workers to seek government permission to fire employees. The Factories Act of 1948 limits overtime in firms with more than 10 employees. The Contract Labour Act of 1970 requires the provision of cafeterias by companies with more than 20 staff, where the government can decide what food is served.
Simpler Laws
"We need to make labor laws simpler," Employment Minister Narendra Singh Tomar said in an interview in New Delhi, without elaborating. "We have discussed them with the labor ministers from states and there are some good ideas."
Mostly, proposed changes revolve around refining the existing system in individual states. The northern state of Rajasthan, led by Modi's party, raised the minimum employee level to 300, from 100, before government approval is required to fire staff. Employees wanting to set up a trade union need 30 percent of workers as members, up from 15 percent.
The complexity of current labor laws means many are often not enforced and companies and workers in dispute have to come to an agreement, sometimes with the help of local officials.
Rinki Devi was planning a small celebration last month for completing five years in her job at Modelama Exports Ltd. after a day spent packing and dispatching ladies shirts for U.K. clothing chain Next Plc., when she received a call from the personnel department.
HR Call
"They called me and told not to come in the next day," Devi, the sole breadwinner for a family of five, said at a run-down labor union office on the outskirts of New Delhi. "About 17 of us were asked that evening not to report for work again. They didn't give any reason."
Devi said she has declined a settlement and plans to appeal to the government's labor department. Officials at Modelama, which makes about $60 million worth of garments a year according to the company, declined to comment on staffing issues.
A.K. Padmanabhan, president of the New Delhi-based Centre of Indian Trade Unions, a labor union that claims more than 6 million members, said attempts to ease the rules will make a bad situation worse.
"These measures will lead to a free for all," said Padmanabhan. "The government wants to send a message that we mean business at the cost of workers' welfare."
Young Replacements
He said labor laws are rarely enforced and laxer rules will allow companies to fire senior staff and replace them with younger staff, depressing salaries.
Indian wage costs were $3.1 an hour in 2012, compared with $11.2 in Brazil and $5.8 in Russia, according to a 2014 survey by consultants Ernst & Young LLP. Almost half of the 502 respondents said labor costs are "very attractive" in India.
That hasn't translated into a boom for factories. Manufacturing lost 5 million jobs in the five years to 2010, when industrial growth was more than 9 percent, according to the Goldman Sachs report. Worst-hit were labor-intensive industries like textiles, electronics and apparel.
Economic growth has fallen to less than 5 percent in the past two years and manufacturing, which constitutes for 16 percent of the economy, grew 0.2 percent durng the period, according to government data.
Different Era
"Some of the labor laws are simply outdated and belong to a different era," said N.R. Bhanumurthy, an economist at the National Institute of Public Finance and Policy, a government-backed research institute in New Delhi. "They can be changed at the state level -- measures which are investor friendly -- but when it comes to the center, it will prove difficult to implement."
Meantime, business owners like Gupta are reluctant to hire too many workers. After closing one of his plants and reducing his workforce by about 400 people, he transferred the remaining 200 staff who didn't take the severance package to his other plant and is now looking to build up a retail network for his furniture in India.