Mexico Oil Output Bloated by Water Barrels, Official Says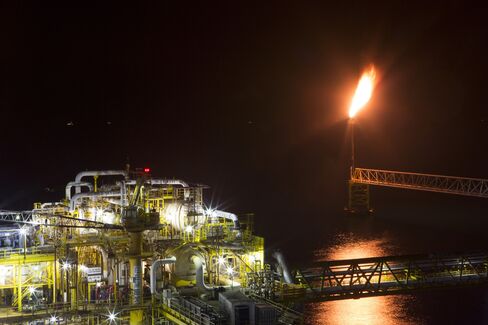 Petroleos Mexicanos, facing a 10th straight year of production declines, is including water in its oil output and may revise previously reported data, according to a company official briefed on the matter.
A record gap this year between reported output and what the state-owned company processes is partly explained by measuring systems at older fields that are unable to differentiate water-heavy oil from actual crude, the official said, asking not to be named as Pemex debates reducing figures for the past three years or more. Last month, the company cut its 2014 output forecast to 2.44 million barrels a day.
Pemex, which is preparing to form partnerships with private producers for the first time in seven decades, produced 2.48 million barrels a day through June, while its distribution system processed 2.32 million barrels a day, according to the National Hydrocarbons Commission. The commission didn't give a reason for the 6.5 percent gap. In an e-mail, Pemex's press department attributed the difference to evaporation, statistical variations and storage, without commenting on the inclusion of water.
Pemex was probably "setting goals they weren't achieving and postponing the moment to correct the information," Adrian Lajous, the oil company's chief executive from 1994 through 1999, said in a phone interview from Mexico City.
Through June, the unaccounted oil averaged 162,000 barrels a day, according to data compiled by the industry regulator, known as CNH for its initials in Spanish. That's up from 102,700 barrels a day last year and 68,600 in 2012, the data show. Over the first six months of this year, the gap was worth about $2.8 billion of oil, based on prices for the Mexican mix of crude for export.
Red Flag
Pemex's inclusion of water in its output raises "red flags" for companies that may want to partner with the oil producer, according to Tim Samples, a law professor at the University of Georgia.
"I certainly wouldn't rule out securities and exchange issues arising from such a discrepancy," Samples said in a telephone interview. "When you're talking about that much discrepancy, when there's huge volume, you're starting to get into the territory of potentially misleading investors."
Gustavo Hernandez, Pemex's head of exploration and production, said today that the company is working to reduce water output at its Cantarell field, which has been increasing as the field ages.
CNH has set goals for Pemex to improve its water measuring, according to a statement on its website.
The Energy Ministry and CNH didn't respond to requests for comment made to their press departments by telephone and e-mail. The Finance Ministry declined to comment on the difference between Pemex's production and distribution.
Oil Theft
Pemex production has also been diminished by oil theft, which it says more than quadrupled from 2009 to 2013. There were 2,167 incidents of pipeline theft reported in Mexico last year, resulting in a loss of about $792 million, equivalent to about 8 million barrels, based on the 2013 average oil prices.
Most of the pipeline thefts are for refined products, and only about 20,000 barrels a day are from light crude, newspaper El Financiero reported Aug. 4.
The Energy Ministry announced today that Pemex was granted rights to all the proved and probable oil reserves it sought for development. The company will maintain 83 percent of the country's so-called 2p reserves and 21 percent of potential reserves, Energy Minister Pedro Joaquin Coldwell said during a presentation of non-competitive bidding known as round zero.
The peso was little changed at 13.1348 per U.S. dollar as of 2:15 p.m. in Mexico City.
Declining Output
The production-distribution gap appears to be factored into Pemex's production for July, which fell to 2.39 million barrels a day, the lowest since October 1995, said Lajous, who's now an industry consultant.
Mexico's energy overhaul, enacted this week by President Enrique Pena Nieto, is forecast by the government to increase crude production to 3 million barrels a day by 2018, a goal that now appears "almost impossible," according to Lajous.
Mexico became a major oil exporter after the 1971 discovery of Cantarell, one of the world's biggest oilfields in the shallow waters of the Bay of Campeche. Cantarell's output has declined almost 90 percent since it began production in 1979, and the field now produces more and more water, as does the Abkatun Pol Chuc field, according to Lajous.
"It is rumored that there are about 100,000 barrels of water mixed with the crude being sent to Pemex refining that is being sent back," Marcelo Mereles, a former Pemex executive who's now a partner at energy consulting firm EnergeA, said in an interview in Mexico City. "By the time it's understood that part of the volume shipped is actually water, the production figures have already been made public by Pemex."
Before it's here, it's on the Bloomberg Terminal.
LEARN MORE