London Leads U.K. Housing Slowdown After Carney Warnings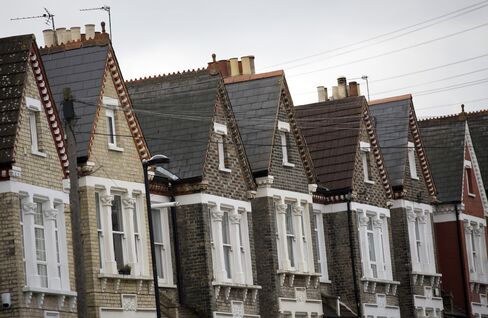 Bank of England policy maker David Miles said London's property market is showing signs of cooling as an index of values in the capital published today slipped to a three-year low.
"The latest indicators are that things are cooling a little bit in London, prices were rising very rapidly," Miles said in an interview with BBC Radio 4. "Some of the forward-looking indicators look a bit cooler" and the Monetary Policy Committee's view is that across the country "the overall rate of increases in house prices probably will slow down a bit."
An index of values in London dropped to 10 from 30 in June, the Royal Institution of Chartered Surveyors said today. That's the lowest since March 2011. The report also showed that surveyors have cut their forecast for price growth as stricter lending rules and the prospect of increased borrowing costs weigh on the market.
In July, demand in the capital fell at the fastest pace in six years, RICS said, after a surge in prices over the previous year stretched affordability and prompted concern a bubble may be forming. BOE Governor Mark Carney announced measures in June to curb a buildup of housing debt that officials said posed a risk to Britain's recovery.
The central bank's cap on loan-to-income ratios was announced in June as mortgage lenders were already grappling with new requirements to assess affordability for borrowers. Miles said today those rules will help prevent a return to the excessive household borrowing that fueled previous crises.
Strong Fundamentals
The new mortgage rules and the prospect of rate increases "have taken the edge off the housing market, particularly in London," said Rob Wood, an economist at Berenberg Bank. "Nevertheless, beyond the near-term the fundamentals continue to signal strong house price inflation."
"It's a welcome development that lenders have a very clear responsibility to assess whether people can live with the possibility that interest rates on their mortgages might go up," he said. The rules are "a good line of defense."
RICS said its national price gauge slipped to 49 in July from 52 in June. An index of new-buyer inquiries fell to minus 2 from 7, indicating the first drop in demand since January 2013.
"The BOE is far more willing to signal its unease with regard to market developments and their risks," RICS said. "It has gone out of its way to engineer a change of mood, through a series of high-profile verbal interventions and warnings, particularly in relation to London."
London Slows
Respondents to the RICS survey cut their forecast for annual average home-price growth in the U.K. over the next five years to 4.7 percent from 5.9 percent in March. The projection for London was lowered by more than half to 4.6 percent from 9.3 percent.
In a survey for mortgage lender Halifax last week, 57 percent of people saw the next 12 months as a good time to sell, suggesting a view among homeowners that prices are peaking. A separate poll showed that 49 percent of U.K. mortgage holders are cutting back spending in anticipation of a BOE interest-rate increase.
"A range of policy initiatives adopted by the Bank of England in recent months alongside heightened expectations surrounding a turn in the interest-rate cycle has clearly had an impact on sentiment in the market," RICS chief economist Simon Rubinsohn said.
He said the shift in London has been particularly pronounced, "but that in a sense is consistent with the move to a more sustainable market."
Before it's here, it's on the Bloomberg Terminal.
LEARN MORE