Why Japan's GDP Plunge Isn't as Bad as It Seems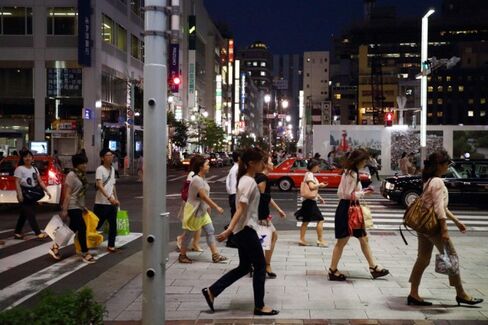 Everybody knew the April-June quarter was going to be terrible for Japan's economy, because of a tax increase that took effect April 1. Prime Minister Shinzo Abe's government raised the consumption tax rate—the first such step since the Asian financial crisis in the late 1990s—moving it to 8 percent from its previous 5 percent. Many consumers and companies, trying to avoid taking a hit from the tax increase, had shifted spending forward to the first quarter of the year.
The last time Japan raised the consumption tax, in 1997, the economy went into a tailspin. The impact doesn't seem to be as bad this time, though. The economy contracted at an annualized 6.8 percent in the second quarter of the year. Bad, to be sure, but not dismal. For all its severity, the plunge was actually smaller than many economists had expected, with a survey of 37 economists by Bloomberg showing a median estimate of a 7 percent decline.
That's why investors looked at today's numbers and shrugged. The benchmark Nikkei stock index was little changed in Tokyo trading on Wednesday. The yen, which has been bouncing around 102 to the dollar since mid-April, also was stable. "The Japanese economy went into the tax increase with enough momentum to weather it fairly constructively," says Michael Kurtz, global head of equity strategy at Nomura International Hong Kong. With corporate earnings holding up well, the rise in the consumption tax has had "much less of a negative impact than investors had feared."
A big question now is whether the Japanese economy is strong enough to withstand another tax increase. The April tax increase was just step one. Next year it's possible a second change in the consumption tax rate will take it to 10 percent. Abe's team will look at how strongly the economy rebounds in the third quarter before deciding whether to go ahead with the next phase of the tax plan.
Abe also still needs to implement the structural reforms he has promised as the "third arrow" in his plan to revitalize the Japanese economy. So far, the results have been disappointing, Takuji Okubo, chief economist at Japan Macro Advisors, told Bloomberg Television. "I don't see any major policy reforms making any progress," he said. For instance, while Abe has talked about the need to create more workplace opportunities for women, "I don't actually see any budgets backing up these policies," said Okubo. "So it's pretty much all words, no actions."
Abenomics has succeeded in conquering deflation, though, and the prime minister needs more time to push through difficult structural changes, says Kurtz. After his Liberal Democratic Party's landslide victory in late 2012, investors had high hopes Abe would be able to push changes through quickly. Those expectations were "unrealistic," he says. "It's taken Abe longer to arrive at consensus within the LDP than impatient investors would have wanted."
Before it's here, it's on the Bloomberg Terminal.
LEARN MORE