How Health-Care Costs Gobbled Up Wages
Even though health-care spending has slowed substantially since the recession, it's still taking up an increasing slice of workers' paychecks and employers' expenses. For workers, dollars that go to medical care don't go to buying new cars or family vacations. For employers, the costs may limit hiring or investing in new equipment.
The chart below shows health-care spending by employers and households, relative to wages, over the past quarter century. It includes contributions to insurance plans, Medicare taxes, and out-of-pocket costs. All the values are indexed to 100 to show how they've changed in relation to each other.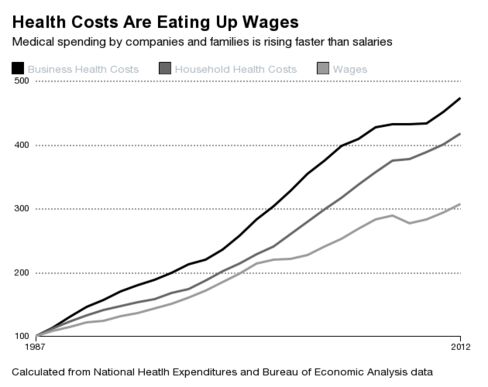 To lasso runaway costs, companies are increasingly asking workers to pay more of the costs of their medical care. Most large U.S. employers are offering "consumer-directed health plans" next year that typically have high deductibles. They'll be the only option at one third of the big companies that answered questions for a new survey by the National Business Group on Health, an alliance of nearly 400 large U.S. employers, including General Electric, Wal-Mart Stores, and Proctor & Gamble. The survey is based on responses from 136 companies that together employ 7.5 million Americans.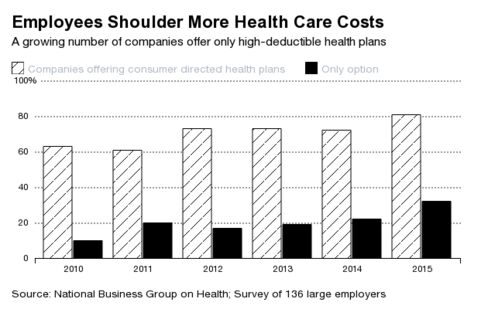 Employers are gravitating to plans that combine high deductibles with health savings accounts often funded by both company and worker contributions. Workers use the accounts to pay for doctor visits or other care until they reach a deductible of often $1,500 or more, when the health plan starts paying.
As recently as 2002, more than half of American workers' health plans had no deductibles at all: Insurance started paying for medical care immediately when the first claim was incurred. That has changed dramatically in the past decade.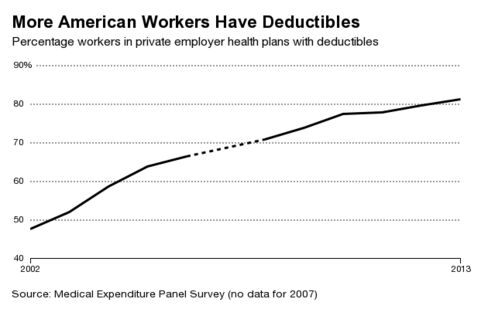 By moving away from more traditional coverage to high-deductible plans, employers can limit premium increases. Companies are also looking to make workers more careful buyers of medicine. High deductibles are incentives to seek lower-cost care—by going to a clinic rather than the emergency room, for example, or seeking generic drugs instead of brand medications.
Expect the trend to continue: Employers in the survey viewed offering high-deductible plans as the most effective way to control health-care costs, a goal they're desperate to achieve.
Before it's here, it's on the Bloomberg Terminal.
LEARN MORE