Healthy Heart Needs More Than Pinch of Salt, Study Finds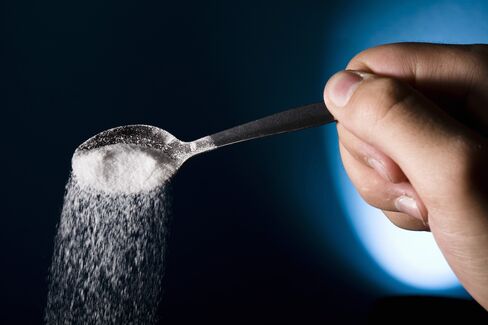 People who eat the least salt may be hurting their hearts, according to a study causing controversy because some of its findings clash with public-health efforts to lower sodium consumption.
The results published yesterday in the New England Journal of Medicine showed the expected link between heart complications and high levels of sodium, which is known to boost blood pressure and cardiovascular risks. Those at the lowest end, as measured by the amount of sodium in their urine, were also at greater risk -- a 27 percent increased chance of heart attack, stroke and death from cardiovascular causes, the study found.
"There is a sweet spot for what the optimum sodium intake is," said Salim Yusuf, senior author of the paper and director of the Population Health Research Institute in Ontario. "The message is very simple: Moderation in salt intake. Avoid high and low levels."
The researchers found a healthy range for sodium intake and concluded as many as 75 percent of Americans are in the zone. The issue is that national recommendations from the U.S. Centers for Disease Control and Prevention and the American Heart Association are in the lower area where cardiovascular risks may increase, Yusuf said in a telephone interview.
"Going down to those levels may be harmful," he said.
The experts agreed that too much sodium is dangerous and it comes mainly from packaged foods and restaurant meals. Only a small proportion stems from salt added to a homemade meal or shaken on food at the kitchen table. It's important for consumers to read food labels to get a good sense of how much salt they consume each day.
New Guidelines
The findings bolster a May report from the Institute of Medicine that found U.S. dietary recommendations to reduce sodium intake to 1,500 milligrams a day for some people aren't fully supported by scientific evidence. The guideline writers should take the new evidence, that a range of 3,000 mg to 6,000 mg a day is linked to lower risk, into account, Yusuf said.
That's not likely to occur. Elliott Antman, president of the American Heart Association and associate dean for clinical translational research at Harvard Medical School, said flaws with how the study was conducted cast doubt on its findings. AHA is reinforcing its efforts to cut salt consumption, he said.
"We don't have confidence they have accurately described sodium intake or that there is a signal of harm from low sodium," he said. "After a thorough review of the evidence, the AHA remains steadfast in its position that there needs to be a reduction in sodium content in the American diet and we urge the federal government to take steps to help reduce sodium content in the food supply."
Officials at the Atlanta-based CDC declined to comment on the research.
Deadly Effects
A second study simultaneously published in the medical journal underscored the importance of lowering salt consumption. It found 1.65 million people die worldwide each year because they eat too much sodium, accounting for nearly 1 in 10 deaths from cardiovascular disease. About 40 percent of the deaths are in people younger than 70, according to the study led by Dariush Mozaffarian, dean of Tufts University's school of nutrition science and policy in Boston.
While the terms salt and sodium are often used interchangeably, salt is made up of sodium and chlorine. The AHA recommends less than 1,500 milligrams of sodium per day, while the CDC said adults generally should have no more than 2,300 mg -- an amount equal to one teaspoon. Most adults, including those older than 51, blacks and diabetics, should curb their use to 1,500 mg daily, the CDC said.
Too Low
That's too low, said Brian Strom, the chairman of the Institute of Medicine report and chancellor of Rutgers Biomedical and Health Sciences in Newark, New Jersey. Public health officials run the risk of scaring off people who need to reduce their sodium levels with unobtainable goals, he said.
"The current guidelines of less than 1,500 is both unrealistic and extreme," Strom said. "The simple answer is too much sodium is bad for you, and too little sodium might be bad for you, too."
The study known as PURE estimated sodium levels based on morning urine specimens from more than 100,000 adults in 17 countries. The volunteers were followed for 3.7 years to track blood pressure, heart attacks, strokes and deaths from heart disease. Only 10 percent had less than 3,000 mg and just 4 percent met the current U.S. recommendations.
The research also focused on the importance of potassium, a mineral found in fruits, vegetables and leafy greens. Potassium helps the body function properly and has been proven to reduce some of the damage tied to excess sodium.
Potassium Benefits
People in the study with the highest sodium levels were most likely to have increased blood pressure if they also had low levels of potassium. Boosting potassium intake, by recommending diets high in fruits and vegetables, may offer more health benefits than focusing on further salt reduction, the researchers said.
The PURE study isn't definitive because researchers didn't collect 24 hours of urine, the standard approach, and didn't measure the effect of increasing or cutting sodium on blood pressure levels, wrote Suzanne Oparil, a cardiologist at the University of Alabama at Birmingham, in an editorial. The results still suggest high and low levels of sodium may increase the risk of heart problems and death, she wrote.
"These provocative findings beg for a randomized, controlled outcome trial to compare reduced sodium intake with usual diet," Oparil said. "In the absence of such a trial, the results argue against reduction of dietary sodium as an isolated public health recommendation."