Ernst & Young Role in Gowex Fraud Questioned by Exchange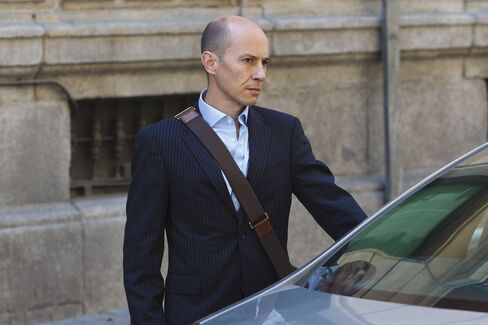 As Spanish regulators sift through the remains of Let's Gowex SA, the Wi-Fi hotspot provider that collapsed last month after years of falsifying earnings, investors and the Madrid exchange are asking just who was verifying its financial statements.
Auditor Jose Diaz, of M&A Auditores, has been named as a suspect and jailed after failing to post bail. A review of the rules for MAB, the exchange where Gowex traded, also raises questions of whether its registered adviser, Ernst & Young Servicios Corporativos S.L., should have caught on to the fraud earlier.
Registered advisers "work with companies to ensure they fulfill the duties and responsibilities they assume with a public listing," according to guidelines from MAB, an alternative bourse for small businesses. They also assess whether "the company's structure, organization, business plan and other aspects make it fit to be listed."
The Spanish firm, part of the EY LLP global network, has been Gowex's registered adviser since the company's market debut in 2010. MAB said it's asked the Madrid-based accountant for any related documents for the exchange's own investigation into Gowex's collapse and declined further comment.
Gowex founder Jenaro Garcia told Madrid Judge Santiago Pedraz that he faked Gowex's accounts since at least 2005, five years before its initial public offering, according to a July 14 court statement. He admitted to inflating the value of contracts and inventing customers, and his maid has told Pedraz that she got 300 euros ($400) to sign paperwork to create at least one such phantom client.
File Clerk
Garcia also listed a defunct company as a holding vehicle for his stake in Gowex in the 2010 prospectus that EY worked on as a registered adviser. Garcia and Gowex didn't respond to requests for comment.
EY says it wasn't responsible for catching Garcia's lies. Francisco Silvan, the partner in charge of registered advisory work at the firm's Madrid office, said that the job involves advice on paperwork and filings, and that EY wasn't required to examine the content of Gowex's reports. He likened the role to what the Spanish call a "gestor," something between an administrator and a file clerk.
"We only saw the information they gave us," Silvan, who didn't work with Gowex directly, said in an interview last month. "We're not meant to do a second audit."
'Not Comfortable'
EY did not make anyone who worked with Gowex available and declined to comment on statements by other registered advisers and investors.
Judge Pedraz said the auditor, Diaz, didn't follow proper procedures in vetting Gowex and gave him until Aug. 5 to post a 200,000-euro bail. Diaz didn't respond to multiple calls to his mobile phone.
"There can be cases where a registered adviser isn't comfortable with the auditor," said Jose Antonio Barrena, a partner at Norgestion, which works as a registered adviser on MAB. "An adviser has to be on top of the company."
While EY and MAB haven't been named as suspects since the criminal investigation began, Pedraz asked MAB to turn over all documents related to Gowex. An exchange spokesman said the bourse did everything legally required in reviewing the financial reports and bears no responsibility for investor losses.
In cases such as Gowex, auditors and registered advisers should be held responsible for their involvement, said Prem Sikka, an accounting professor at the University of Essex.
"In order to give anyone any confidence in these figures, you have to look into the details," Sikka said. "They have a professional duty. They know there are parties that are going to rely upon them. I don't buy that they're simple filing clerks."
'Be Proactive'
EY is one of nine firms working as registered advisers to MAB-listed companies. The five that spoke with Bloomberg News said they must rely on information provided by an auditor or a company, but two said the job also requires due diligence.
"It's not only about going through information prepared by a third party," said David Carro, a partner at DCM Asesores, which works with three companies on MAB. "The way we see the job of a registered adviser is to be proactive."
The adviser should compare information from other parties and request details from the company beyond what the rules demand, he said.
Two others said they do very little to check the veracity of the information they're given, focusing instead on formalities such as how things are filed and what forms are used.
'A Coordinator'
The registered adviser's "main function is to act as a coordinator between the regulator and the company," said Christian Torres, a partner at Solventis A.V. SA, which works with four clients on MAB. The job is "far away from an audit."
Under a rule MAB implemented that year, IPO documents must include a statement from the registered adviser saying it has examined financial statements to ensure no material information was omitted. While Gowex held its IPO before the rule was enacted, EY did include such a pledge in a filing for a capital increase in 2011.
"The regulation was terrible," said Ian Sullivan, 53, an Irish investor who says he plowed half his pension savings into Gowex. "You're trusting what E&Y was saying, and what the auditor was saying and what the CEO was saying."
Before it's here, it's on the Bloomberg Terminal.
LEARN MORE