China Stocks Rise on Stimulus Outlook as Coal Miners Gain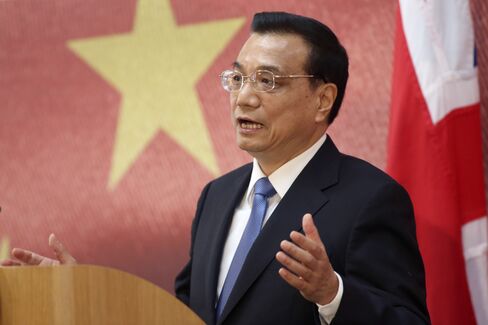 Aug. 13 (Bloomberg) -- China's stocks rose, led by coal producers, on speculation the government will take further steps to support the economy after data showing weaker-than-estimated credit growth and industrial production.
Guizhou Panjiang Refined Coal Co. and Wintime Energy Co. both rallied 10 percent after the nation's second-largest coal miner said it was cutting production. Ping An Insurance (Group) Co. jumped the most in a week after the insurer reported a jump in premium growth. Bank of Communications Co. and China Citic Bank Corp. declined 0.9 percent. Aggregate financing was 273.1 billion yuan ($44.3 billion) last month, versus the 1.5 trillion yuan median estimate, while factory production rose 9 percent and fixed-asset investment growth weakened.
The Shanghai Composite Index climbed 0.1 percent to 2,222.88 at the close, erasing a loss of as much as 0.9 percent. Today's data increase pressure on the government to add to stimulus if it wants to achieve its economic growth targets for the year, according to Barclays Plc.
"Overall, the data confirms our view that China's growth recovery remains fragile," Jian Chang, China economist at Barclays, wrote in a note today. "We think more policy easing is unavoidable," she said, forecasting two cuts in interest rates from now until the end of this year.
The CSI 300 Index added 0.1 percent to 2,358.90. The Hang Seng China Enterprises Index advanced 0.8 percent at 3:51 p.m.. The Bloomberg China-US Equity Index added 0.1 percent yesterday.
Stocks pared losses as Bank of America Corp.'s Lu Ting and UBS AG's Wang Tao said the slump in credit was not due to policy tightening and that data next month would show an improvement. We are "expecting a big rebound," Lu wrote in a note.
Coal Producers
The Shanghai Composite has rebounded 12 percent since mid-March as monetary easing, accelerated government spending and gains in manufacturing spur speculation the nation will meet its 7.5 percent economic expansion target. Data released last weekend showed inflation was subdued last month, giving policy makers room to loosen policies.
A sub-index of energy stocks in the CSI 300 gained 1.1 percent, the biggest advance among 10 industry groups. Yangquan Coal Industry Group Co. jumped 5.8 percent while Datong Coal Industry Co. climbed 4 percent.
China Coal Energy Co. said yesterday it will cut its 2014 target for production volumes by 10 percent and may make further adjustments depending on market conditions. The stock rose 1.4 percent. The production cuts signal real progress in the industry and gradual implementation of bailout policies, Citic Securities Co. said in a note today.
Ping An, China's second-biggest insurer, gained 1.8 percent. The company reported life insurance premium income of 115.8 billion yuan in the Jan.-July period. Bank of Communications slid to the lowest in two weeks, while China Citic Bank declined for a second day.
New Lending
New local-currency loans totaled 385.2 billion yuan, the People's Bank of China said today in Beijing. That compared with the median estimate of 780 billion yuan. M2 money supply grew 13.5 percent. The median estimate for M2 money supply was for a 14.4 percent gain. Analysts' estimates for aggregate financing ranged from 1.2 trillion yuan to 2.03 trillion yuan, after 1.97 trillion yuan in June.
The drop in aggregate financing was partly caused by a decrease in trust loans, while initial public offerings also diverted some bank deposits, the central bank said. Trust assets expanded at the slowest pace in two years, industry data showed this week. The government averted its first trust default in January as investors in a 3 billion-yuan high-yield product issued by China Credit Trust Co. were bailed out days before it matured.
Fragile Recovery
Premier Li Keqiang is grappling with sustaining economic growth while containing financial risks after shadow banking exploded in China from 2010. The government has tightened controls on shadow banking with rules targeting off-the-book loans to clamp down on hidden lending. Shadow banking includes activities ranging from trusts and private lending between individuals to banks' off-balance-sheet savings vehicles, known as wealth-management products.
Fixed-asset investment increased 17 percent in the January-July period and retail sales gained a less-than- projected 12.2 percent last month, the National Bureau of Statistics said today in Beijing.
The Shanghai Composite is valued at 8.1 times 12-month projected earnings, compared with the five-year low of 7.3 in March, according to data compiled by Bloomberg. Trading volumes in the index were 26 percent above the 30-day average today.
To contact Bloomberg News staff for this story: Zhang Shidong in Shanghai at szhang5@bloomberg.net
To contact the editors responsible for this story: Michael Patterson at mpatterson10@bloomberg.net Allen Wan, Phani Varahabhotla