Barclays Seen Facing $2 Billion in Misconduct Costs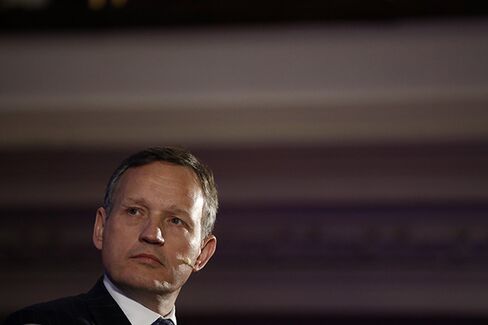 Barclays Plc faces costs of as much as 1.2 billion pounds ($2 billion) for its alleged rigging of currency markets, lying to clients about its U.S. dark pool and mis-selling interest-rate swaps, Sanford C. Bernstein Ltd. said.
The U.K.'s second-largest lender may incur a 700 million-pound charge to settle a foreign-exchange probe with regulators and a further 200 million pounds relating to a U.S. investigation into its private-trading venue, Chirantan Barua, an analyst at Bernstein in London, said in a note today. The bank could reach settlements by the end of 2014, he said.
Barclays is part of a group of banks in talks with the U.K.'s Financial Conduct Authority to reach a settlement in the currency-rigging probe, while fighting a U.S. lawsuit accusing it of falsifying marketing materials to hide the presence of high-frequency traders in its dark pool. The scandals are undermining Chief Executive Officer Antony Jenkins' attempts to reform the culture of a bank after it was fined 290 million pounds in 2012 for rigging the Libor benchmark interest rate.
London-based Barclays may also set aside 300 million pounds in the second-half to compensate customers improperly sold interest-rate hedging products, Barua estimates. The bank didn't make further provisions for redress in the first half.
Additional Provisions
Other British lenders are also struggling with rising provisions for misconduct. Royal Bank of Scotland Group Plc, Britain's largest state-owned lender, may face as much as 1 billion pounds in charges to settle the allegations of currency market manipulation, Barua wrote in an separate Aug. 11 report.
RBS said on July 25 it made additional provisions of 150 million pounds in the first half for improperly sold loan insurance and 100 million pounds for interest-rate swaps. The government owns 80 percent of the Edinburgh-based bank.
Barclays took a 900 million-pound charge to cover the costs for improperly sold loan insurance compared with 1.35 billion pounds a year ago, it said July 30. That brings total payment-protection insurance provisions to 4.85 billion pounds.
Britain's FCA is preparing to reach a deal with a group of banks on currency rigging this year, according to people with knowledge of the situation. The regulator is in negotiations with banks including Barclays, Citigroup Inc., JPMorgan Chase & Co. and UBS AG, said the people. RBS and HSBC Holdings Plc may also be part of the group settlement, one of the people said.
'Factual Errors'
Regulators and prosecutors are scrutinizing allegations that dealers at the world's largest banks traded ahead of their clients and colluded to rig the WM/Reuters rate, a benchmark that pension funds and money managers use to determine what they pay for foreign currencies.
Adding to the bank's woes, Barclays dropped from second place behind Credit Suisse Group AG as the largest dark pool operator in the U.S. to 13th after New York Attorney General Eric Schneiderman filed a complaint against the bank on June 25. Barclays has asked a judge to throw out the lawsuit, saying that it's based on "clear and substantial factual errors."
Barclays shares rose 1.3 percent to 219.90 pence at 12:10 p.m. in London. They have dropped 19 percent this year, making them the worst performers among Britain's five largest banks.
Before it's here, it's on the Bloomberg Terminal.
LEARN MORE