Barclays Index Unit Said to Draw Offers From Nasdaq, CME Group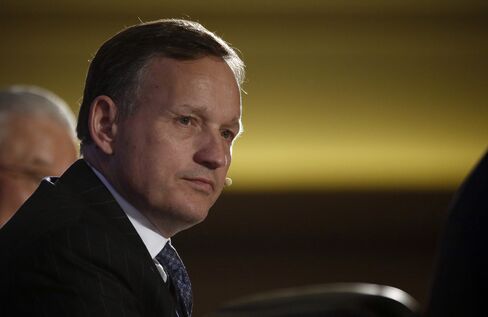 Barclays Plc's index business drew offers from Nasdaq OMX Group Inc., Bloomberg LP, and CME Group Inc., people with knowledge of the matter said.
The Index Portfolio and Risk Solutions, or IPRS, unit, which manages indexes including the U.S. Aggregate Bond Index, could fetch about $1 billion, one of the people said, asking not to be identified because the matter isn't public. The first-round bids were due at the end of June, the people said, and the process hasn't yet advanced to a second round.
The unit is part of Barclays investment bank, which Chief Executive Officer Antony Jenkins is scaling back to reduce costs and shrink the balance sheet. The Index unit also sells portfolio management software to investors.
CME is bidding together with McGraw Hill Financial Inc. and the companies would merge the IPRS unit with S&P Dow Jones Indices LLC, one person said. Laurie Bischel, a CME Group spokeswoman, and Jason Feuchtwanger of McGraw Hill declined to comment, as did Marc Hazelton, a representative for London-based Barclays.
Robert Madden, a New York-based representative for Nasdaq, confirmed that the exchange operator made an initial bid for the unit, declining to elaborate further. Mark Murphy, a spokesman for New York-based Bloomberg, the parent of Bloomberg News, declined to comment on the data and media company's interest in the unit.
The Wall Street Journal reported that Bloomberg and Markit Ltd. bid for IPRS.
Rising Value
Estimates of IPRS's value have risen during the sale process. In March, when Barclays was contemplating the auction, people with knowledge of the matter said it could fetch about $400 million. By June, people said its sale price was closer to $500 million.
MSCI Inc. and Intercontinental Exchange Inc. were weighing offers for the business, people with knowledge of the matter said in June. Brookly McLaughlin, a spokeswoman for ICE, declined to comment yesterday. Michele Clarke, a spokeswoman for MSCI, didn't have a comment.
Barclays had delayed the auction to wait for Northwestern Mutual Life Insurance Co. to move forward with the sale of Frank Russell Co., another index manager, people have said. London Stock Exchange Group Plc said in June that it will buy that business for $2.7 billion.