Banks Woo Treasury Sanctions Pros to Navigate Complex U.S. Rules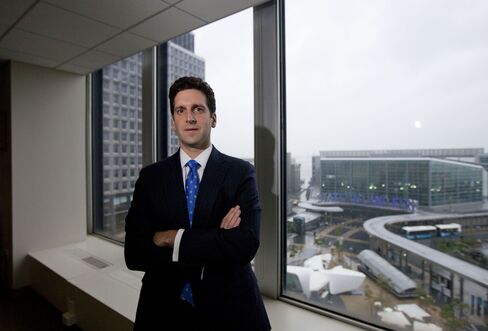 The Obama administration unit central to enforcing economic sanctions on the regimes of Vladimir Putin and Bashar al-Assad has to contend with a nuisance closer to home: large banks poaching its staff.
Companies including HSBC Holdings Plc and Deloitte Touche Tohmatsu Ltd. are beefing up compliance expertise to ensure they or their clients don't violate the set of programs the Treasury Department has more than doubled to 37 over the past decade. At least eight people of a staff of about 200 have left the Treasury's Office of Foreign Assets Control in the past year, including no fewer than six in 2014.
As sanctions become the key weapon of economic pressure the U.S. is using to achieve its security and foreign policy goals, companies are rushing to hire employees versed in the intricacies of the Treasury's rules. For banks, investment firms and the consulting companies helping them steer clear of violations, the stakes are higher because fines are getting bigger and the list of banned individuals and businesses has swelled to about 5,800.
"The demand for expertise in this space has skyrocketed due to the increasing visibility of enforcement cases," said Chip Poncy, former director of the office of strategic policy for terrorist financing and financial crimes at the Treasury. "Management understands that they need to strengthen their compliance programs."
Poncy left Treasury in 2013 and later became a founding partner of Financial Integrity Network, a consulting company assisting in combating and protecting against illicit finance.
OFAC's Size
OFAC currently has a staff of about 200, former OFAC official Peter Kucik said in an interview. It had about 155 in 2008, according to a Government Accountability Office report. Treasury spokeswoman Hagar Chemali declined to comment for this story, or to provide the size of OFAC's staff.
The Treasury's OFAC has evolved from an obscure unit focused on enforcing rules against doing business with Cuba and North Korea to a key player in U.S. efforts to punish the financiers of terrorism and the governments of Russia, Syria and Iraq. The broadening scope requires large banks to have staffs with expertise in bank secrecy laws, anti-money-laundering regulations and foreign policy. Non-compliance can be very costly.
BNP Paribas SA agreed to pay a record $8.97 billion fine in June for violating U.S. sanctions by processing banned transactions involving Sudan, Iran and Cuba.
Hiring Spree
Deutsche Bank AG plans to hire about 500 compliance, risk and technology employees in the U.S. by year-end, Jacques Brand, its North American chief executive, said in an interview last month. The bank is under investigation for potential violations of U.S. sanctions.
The hiring spree for compliance executives who understand U.S. sanctions laws comes in part from the trend toward appointing outside monitors as a condition of some settlements.
Benjamin Lawsky, New York's top banking regulator, insisted on the appointment of an outside monitor as a condition of his settlement with Standard Chartered Bank Plc in 2012. A few months later, as part of a deferred prosecution agreement between the Justice Department and HSBC, the U.K. bank agreed to hire an outside monitor, Michael Cherkasky, who in turn hired a number of experts to monitor the bank's compliance and anti-money laundering programs.
'Evolving Rules'
"Having someone who has come directly from those regulatory bodies or otherwise understands the evolving rules and regulations gives firms a significant advantage," said Justin Mandel, co-founder of JW Michaels & Co., a New York-based recruitment firm that places compliance staff at banks and asset managers. "OFAC is one of those areas where it's relevant."
That's led banks to pay up for top talent. Compensation is often the main reason many leave government jobs.
"In general, compensation has steadily grown in the last few years and in particular in the last" three to six months, Mandel said. Companies are making offers that are "considerably more" than what they would have been a year ago, he said.
The salary bumps are increasing the gap with government jobs. Workers can expect 25 percent to 50 percent higher pay at a bank than what they might receive for a similar level of experience in the government, according to Mandel.
That doesn't include an annual bonus, which could be 10 percent to 50 percent of the salary or more depending on experience, the company or the role, he said. In some cases, firms are offering a guaranteed first-year bonus to attract workers.
Government Jobs
Recent Treasury job openings on the federal government's employment website, www.usajobs.gov, have included an OFAC sanctions compliance officer whose salary range is listed as $63,091 to $116,901 a year, according to the website.
At a bank, someone with a similar level of experience as the compliance officer may receive a $170,000 salary, said Stuart Rosenthal, who's based in Montclair, New Jersey, and runs a recruiting firm focused on placing compliance and regulatory staff.
HSBC has been among the most active banks hiring from the government. The lender, which agreed to pay $1.9 billion in 2012 to settle anti-money-laundering probes in the U.S., has at least seven former Obama Treasury officials working on financial crime or sanctions-related issues.
Nicole Sayegh, a vice president at HSBC, joined in May after more than two years at OFAC, where she was most recently a sanctions officer analyzing transactions for the Syria, Iran, Cuba, Sudan, Myanmar, Libya and Ukraine programs, according to her LinkedIn profile. Archana Bae, also a vice president at the bank and a global sanctions investigations manager, joined in October. Both declined to comment when reached by phone.
HSBC Executives
Stuart Levey, former undersecretary for terrorism and financial intelligence, was hired by the bank in 2012 to strengthen its controls, and Robert Werner, HSBC's head of financial crime compliance, is a former OFAC director.
"We want leading experts in anti-money-laundering and sanctions compliance to be part of HSBC, and have been hiring the best of the best people with regulatory, law enforcement and private sector experience," Robert Sherman, a bank spokesman, said in an e-mailed statement.
Robert Weissman, president of the Washington-based government watchdog Public Citizen, said that while "it's always a problem when regulators leave their job and go to work for the businesses they previously were regulating," he is less troubled in this case.
Revolving Door
"In the sanctions-compliance area, to the extent they are helping banks comply with the law," and using their expertise to boost banks' compliance, "the concern is less," Weissman said.
OFAC officials are also in demand by some of the world's largest consulting companies.
Sheena Nayak left OFAC in July to work as a manager for EY, the consulting firm formerly known as Ernst & Young, her LinkedIn profile says. She worked at OFAC as a sanctions investigator from 2009 to July 2014 and as an enforcement investigations officer from 2003 to 2007. Amber Stokes, a director at PricewaterhouseCoopers LLP, was OFAC enforcement section chief until December 2013, according to her LinkedIn profile. Nayak didn't respond to requests for comment, and Stokes declined to comment.
Deloitte boosted its global anti-money-laundering and economic sanctions practice to 660 professionals, a 20 percent increase since December 2013, according to Alison L. Clew, global leader for the Deloitte's sanctions unit.
Deep Bench
The Treasury has enough experienced people to adjust to the departures, said Mark Dubowitz, executive director of the Washington-based Foundation for Defense of Democracies, a nonprofit group that focuses on foreign policy and national security issues.
"The good news is that there is no shortage of smart and committed people who want to work at OFAC, and there is a deep bench of existing staff to keep implementing sanctions," Dubowitz said. "The bad news is that it takes time to get new people up to speed and it puts a considerable burden on existing people."
While OFAC has been able to add staff over the past years, the amount of work it's charged with has been growing at an even faster pace, said Kucik, who left OFAC in March to become a principal at Washington-based Inle Advisory Group LLC, helping establish U.S. businesses in Myanmar and vice versa.
The policy unit at OFAC, where he worked for more than six years, has seven employees and is looking to hire two or three, he said.