Sweeney Ditches Christie Alliance With Pension Vow Broken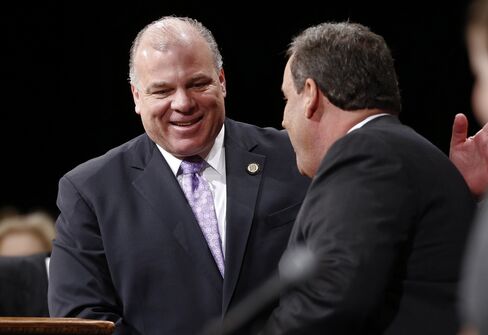 Setting out to cut public pensions and health benefits in his first term, New Jersey Governor Chris Christie found an ally in Senate President Steve Sweeney, a career ironworker whose earlier stab at such changes led unionized workers to protest dressed like hot dogs.
With Sweeney by his side in 2011, Christie signed bills boosting workers' contributions, raising the retirement age for new hires and freezing cost-of-living adjustments. The Democratic senator's support cost him the endorsements of government unions who showed up at his office with signs that read "Sweeney's a Weenie" and inflatable rats.
"As a labor person that's as big an insult as you can get," Sweeney, 55, said in an Aug. 7 interview at Bloomberg's offices in New York.
These days, he and Christie, 51, have dropped the buddy talk. A potential Republican presidential candidate for 2016, the governor is touring the state telling residents more benefits changes are needed. Not a chance, says Sweeney, whom a coalition of trade unions is urging to run for governor in 2017.
The state's highest-ranking Democratic lawmaker says the pension fund would be stable if Christie hadn't broken his promise this year to make $2.48 billion in extra payments in fiscal 2014 and 2015. The governor reneged to balance the budget after income-tax collections fell short of his targets.
Broken Word
As part of the agreement with Sweeney, which they said would have saved taxpayers $120 billion over 30 years, Christie signed a law requiring the state to make gradually higher pension payments until it reached full funding in fiscal 2018.
"He got what he wanted," Sweeney said. "The one thing I got out of the whole agreement was that he would fund it. What's the first thing he does? He breaks his word on the funding."
Sweeney says he takes the about-face personally.
The senator, who speaks with the drawn-out vowels of his native South Jersey, followed his father into ironworking after high school and never went to college. Though Sweeney now is vice president of the 120,000-member International Association of Bridge, Structural, Ornamental and Reinforcing Iron Workers rather than a laborer, he still rises before dawn for workouts at a gym.
"He's one of us -- he's not shy about saying where he comes from," said William T. Mullen, president of the Clark-based New Jersey State Building & Construction Trades Council.
'Mr. Labor'
Married with two children, Sweeney lives in West Deptford, where the median household income is $68,809, below the state's. He says it was the birth of his daughter, Lauren, who has Down syndrome, that led him to enter public service because he wanted to improve laws and services for the disabled.
Sweeney served on his county's governing board and was elected to the state Senate in 2001. Some of his biggest accomplishments, he said, have been pro-labor measures, including raising the minimum wage and paid family leave.
"I'm Mr. Labor," Sweeney said.
Christie, on the other hand, became a national Republican figure after his spars with labor unions and his calls for smaller government.
When he ran for re-election in November, Christie touted his ability to work with Democrats who control the legislature, and said it was a lesson for federal politicians.
Partial Funding
The governor has said his 2011 overhaul didn't go far enough to contain pension and benefit costs, which are crowding out spending on services such as schools and public safety.
"This pension will go bankrupt if we don't make significant changes to it," Christie told about 300 people in Belmar on July 30.
New Jersey's pensions were fully funded as of 2002. The gap between promised payments and funds to cover them climbed as high as $53.9 billion in 2010 after governors and lawmakers increased benefits and skipped payments.
The concessions that Christie won helped trim the gap to $36.3 billion. His partial contributions, though, increased the hole to $52 billion, with New Jersey's share at $38 billion.
Across the U.S., state and local government pensions have at least $1.1 trillion less than they need for promised retirement benefits, the Center for Retirement Research at Boston College said in a June study. The underfunding is putting pressure on governors to pare benefits or force governments and employees to pay more into the funds.
"The playbook of fighting with unions is a very positive thing nationally" for Christie, Sweeney said. "It serves him very well in where he's looking to advance."
Pension Changes
Christie appointed a nine-member commission on Aug. 8 to recommend pension changes. Speaking on a Jersey Shore tour he calls "No Pain, No Gain," the governor has mentioned higher costs for employees and the addition of a 401(k)-style system as possible approaches.
Sweeney's sponsorship of the pension bill cost him and those who voted for it campaign-finance support from the AFL-CIO, a coalition that includes public-worker unions.
Now, at least some of those union members are coming back to Sweeney, who says he refuses to negotiate with governor because he broke the extra-payments promise.
"I don't want to fight with unions -- that's the last thing I really wanted to do," Sweeney said. "I just wanted to fund the pension system."
Fending off Christie's plans has become "almost a moral issue" for Sweeney, said Eric Richard, a lobbyist for the Trenton-based New Jersey State AFL-CIO, with 1 million members.
"He gave us some bad medicine and now he expects the governor to live up to that," Richard said. "Senator Sweeney has nine out of 10 times been right on every labor issue."
Before it's here, it's on the Bloomberg Terminal.
LEARN MORE